6 struggles of being a jobless Nairobian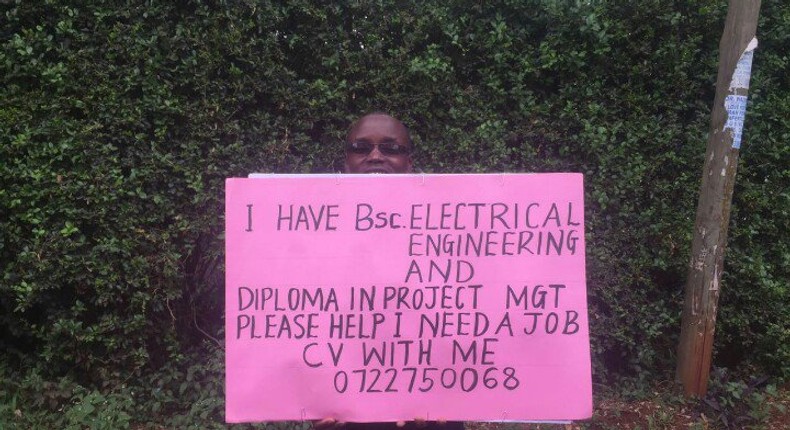 Being jobless in Kenya today is frustrating but it's even worse to be broke and jobless in Nairobi.
Young people march out of college with clean certificates, shoulders and their hopes up high that they will soon get a stable job. But this is never the reality.
Nairobi is no longer the gold field it was before and for a jobless youth, the struggle is real. Check out some of the struggles of being a jobless Nairobian:
Walking back to your house in the evening after a long day of job hunting, you meet with a young man dressed in a shiny suit and coal black sharp-shooters. He promises you riches and invites you for a training the following week. Before you know it, your Ksh 25, 000 that your parents borrowed from a chama in the village is gone. And, all you have is some strange herbal products that that are ridiculously expensive but you are supposed to sell them to recover your money and also bring more people to the global marketing forum for you to earn.
2. Hide and seek with the landlord
It's end month again and as usual, no rent. In fact, it's been three months and the landlord has had enough of you and threatens to 'lock your house'. And since you have no more guts to face him and sing the same song of 'nivumilie tu hii mwezi nitakulipa haki', you avoid him like plague.
Sales jobs are the easiest to come by in Nairobi. However, being in some of them especially if it's not your area is the same as being jobless. But when you don't have a job, there is no harm trying. Unfortunately, you are forced to quit after a week or two because you have no more money to make errands and calls to book appointments with prospects.
Back in the village, everyone knows you are in Nairobi and they imagine that you work in a huge government office. What they do not know is that you were better off at your parents' home because even if you were broke, there was no rent to pay. So when you go to the village, your mates expect you give them 'something' because they believe you have been eating life with a big spoon in the city.
People who care send you job adverts because they honestly want you to get a job. And while you also want to apply for every other job you see, you just can't because getting a mere 20 bob to buy data is only in your dreams. And even if you by luck get that 20 shillings, you will rush to buy some mandazis to eat with strong tea before you go hungry for the third day.
JOIN OUR PULSE COMMUNITY!
Recommended articles
7 weird things men find attractive in women
9 feminine hygiene tips every girl should know
10 outdated gadgets that will make you nostalgic
Fashion designer Diman Mkare announces expecting first child [Photos]
6 tips to enjoy rest when struggling to slow down
These are 5 top signs of fake love in a relationship
How to Deal With Carpal Tunnel
10 unwritten rules for healthy social relationships
How ex-Presidential staffer turned school into a luxury resort [Photos]