Seven things a woman will never tell her man
Just because she didn't mention it doesn't mean that she isn't thinking it.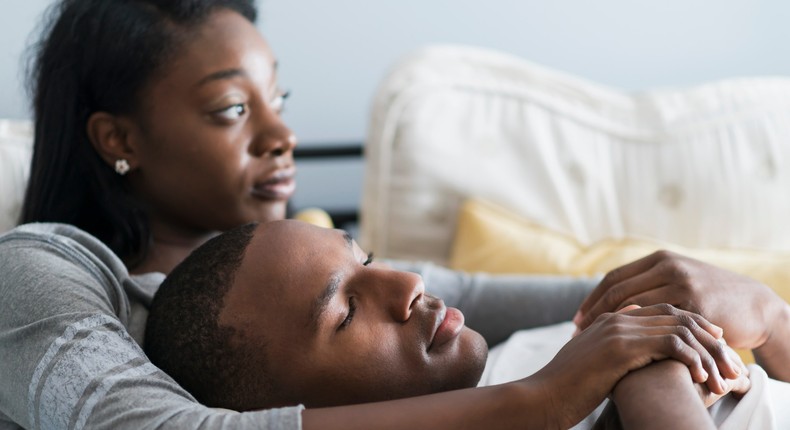 Women have been accused of their nagging tendencies, their ability to voice up problems in relationships with zero filters while they're at it.
But just like you, there is a lot the lasses keep to themselves when in relationships. Read on.
1. Nobody minds you having guy time
By all means take time off and hang out with the boys. Just like we enjoy going for coffee dates with the girls, we really understand the importance of guy time. However, our biggest problem is when you're spending all the time with your friends and living none for us.
2. You don't have to say everything but could you make it a little less vague?
No girl wants to be called a nag. That is why we rarely ask those burning affirming questions like, 'Are you sure my presence at the game isn't a bother?'. Most often than not we're screaming in our heads at just how frustrating it is to read a guy's mind. Speak up and let us know what's bothering you. No one likes to be left guessing.
3. If she loves you then she's envious. Super-duper envious.
No girl will accept to pass over this little information that could easily render her helpless in the mercy of her man. Call it a pride thing if you may but a girl's biggest fear is that someone else will take you away from her. Don't get us wrong, it's not an inferiority complex but we're all too aware of just how hot you are and if we can see it then someone else does too. We trust you but we don't trust the women around you. You know, like the one strutting in miniskirts around your working space. Just sayin'.
4. It's so assuring and sexy when you take initiative
Nothing is as exciting as a guy who takes the first step in enhancing the relationship. It's every girl's dream to hear her man tell her, 'I think it's time we start saving for our house.' While the desire to jump on that idea and just move in immediately will be super high, a woman will respect your wishes and follow your lead when you look like you've got a plan.
5. Girls looove surprises
The problem with this statement is that guys immediately think we want a house or something of the sort, which is a total lie. Did she tell you she's starting to meal prep for diet? Go online and find her new recipes that she can try. Did she tell you that she's working on something and she doesn't know how to go about it? Do your best to get her nfo and add a bit of insight on the matter. You'll have her swooning at your awesomeness every single time.
6. Your body language is snitching
Here's the thing about a woman in love, she recognizes everything. In fact it's been said that women have a sixth sense when it comes to relationships. She might not tell you but she'll notice when you lift your brow as another woman passes by. She'll notice how you fidget when you tell a lie and she'll notice if you're getting bored or impatient in her presence. She might not say it just to keep the peace but trust that she saw it.
7. She can hear what you're not saying
While most times men leave them guessing, a woman will hear what you didn't say by just how you respond to things. Words are such a powerful indicator of emotions and thoughts. (Well duh!) You're better off being honest about whatever is going on before she deduces it herself.
JOIN OUR PULSE COMMUNITY!
Recommended articles
NTV anchors Ben Kitili & Lofty Matambo promoted to senior roles
15 of the wildest animal specimens I saw hidden underneath one of the world's largest natural history museums
Cucumber: The health benefits of this fruit will leave you speechless
KTN anchor holds dreamy beach wedding ceremony on her birthday [Photos]
Fairytale bride: The 3 dresses Rita Dominic wore on her wedding day in detail
Check out how Rita Dominic and her husband looked at their white wedding
The way of men - How the 1st inaugural men's event went down
DIY Recipes: How to make Sausage salad
5 things people don't consider as cheating but actually is