3 surprising signs of cheating you may find in your partner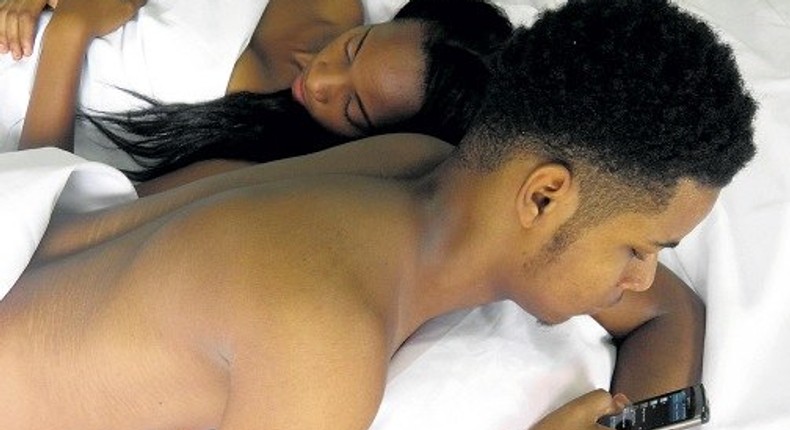 There are actions that point to cheating which can be easily spotted.
But if you think you have seen all there is to spotting a cheating partner, you might want to think again. Here below, we list some behaviours that could low-key be signs that your man is cheating on you.
1. He passes on date night
Stepping away from this, or even worse, declining intimacy, can be a red flag to watch out for in a relationship or marriage.
According to Dr. Nicole Zapien, a professor of Psychology in California, USA, "It signals a giving up or turning away."
If he or she is cheating, it could be that their emotional or sexual needs are being met elsewhere, meaning they no longer need to get them from you.
2. Gut feeling
Your partner may cover their tracks well, they may still be doing all the relationship things and giving you the same level of exciting energy they've always given, but somewhere deep down, you just feel that you are being deceived or being played.
There is no evidence and no sure way to pin the cheating on him or her, but the feeling just won't go away. Zapien says to not ignore that feeling.
"We often ignore these intuitions only to have them confirmed later," she says
3. Gifts and compliments
One would expect that this is one good sign of a partner who is in love and happy with their spouse but sometimes, that is not the case.
Compliments and regular gifts could be a way of trying to appease an unspoken guilt or trying to mask over behaviours that could be suspicious.
"Guilt can be a powerful motivator, and if the attraction of the affair is too strong to resist, guilt may be allayed by treating the unsuspecting partner more kindly than normal," says Degges-White, another expert.
"The mindset is, 'I can't stop cheating, but I can be nicer to my spouse.'
JOIN OUR PULSE COMMUNITY!
Recommended articles
Governor Sakaja, CS Namwmaba make pledge for film-makers at Kalasha Film & TV market
For women: 3 common infections you could contract during menstruation, remedies
The African all-female tribe where men are not allowed
5 Ways to keep warm this rainy season
How to deal with your girlfriend's male bestie
Meet the president of Nairobi's exclusive society dubbed 'Women Who Whiskey'
Signs that say you're a lady in the streets, freak in the sheets
How Folk Fusion's Rain Dance Edition went down [Videos]
Arts Center Kibera: Unleashing creative potential of Kenyan youth
Ferdinand Omanyala storms to 100m world-leading time, makes February history
Report: Erik ten Hag rules out trophy parade if Manchester United win
Ranking Xavi's European exits with Barcelona
Video: Christian Atsu's remains arrive in Ghana
Atsu's body to be brought home for burial - Ghana Embassy
Sad news: Christian Atsu found dead in Turkey
How well do you know your favourite La Liga club?
Messi gives in to Alphonso Davies' demand after 3 years
Why Greenwood could have played his last match for United