Your cheating partner must answer 5 crucial questions before you forgive him
Can broken trust be mended?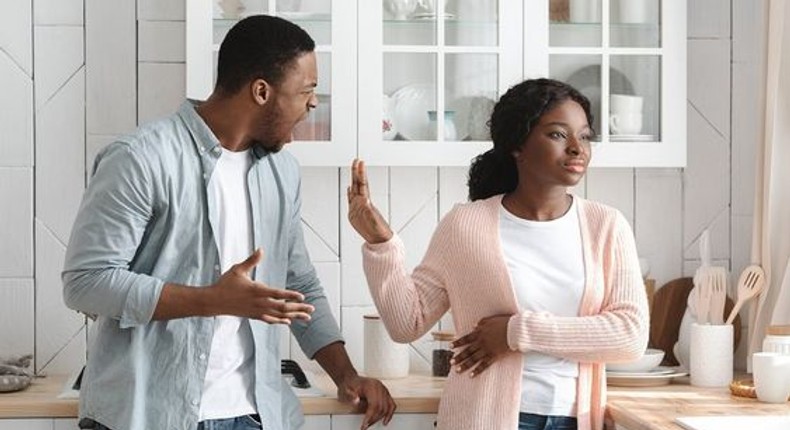 In the complex landscape of relationships, we entrust our hearts to our partners, believing they will never betray us.
When you're deeply in love, it feels like a cozy, protected bubble where nothing can harm your relationship. You believe your partner is your soulmate, someone who could never break your heart.
Even when you stumble upon stories online about people cheating on their partners, you reflect on your own relationship and firmly believe that such acts of betrayal could never impact the bond you share.
"Can never be me," you'll always say.
But suddenly, your world shatters when you come across a suspicious text on your partner's phone that reads, "Last night was fun." A rush of pain courses through you as you struggle to process the weight of this discovery.
Hot tears stream down your face.
You begin to remember all the times you've bragged to your friends.
"My man can never," you'd always say, only to be confronted with this heartbreaking reality.
Overwhelmed by the agony, you find the thoughts too painful to endure any longer. Tearfully, you make your way out of his place, leaving behind a scene of emotional turmoil.
You've always upheld your standards. But what happens now, when the man you love has shattered your heart?
Fearing ridicule and the dreaded words, "We told you so," you hesitate to confide in your friends, certain they would mock and jeer at your predicament.
He keeps calling, saying it was a one-time mistake. He begs, cries, and even shows up at your door, desperately apologising.
Your heart softens at this display of remorse. You still love him, but can you truly forgive? Will he repeat his transgressions? Can you really trust this son of Adam again?
Before making your final decision, discuss these five crucial questions with your partner. These will help you determine if he's truly worth forgiving:
1. Why did they do it?
A one-time incident with genuine reasons is generally easier to forgive than a consistent cheating pattern or a long-term affair.
Take a moment to put yourself in your partner's shoes. Try to understand their feelings and the circumstances they were in that led them to cheat. Can you empathise with their perspective?
It's important to note however that if someone has developed a habit of being a serial cheater, best believe they will continue to do it, again and again, no matter how many times they have apologised.
Never give second chances in this case. Ever. STDs and the constant emotional turmoil are not worth it.
2. Was your relationship healthy prior to the cheating?
You'll be much more likely to forgive if you were aware your partner was unhappy, the relationship wasn't great and there were suspicions.
But if you believed you were happy and didn't notice any signs that anything was wrong, rebuilding trust becomes harder.
When there were no clues in the past, it's difficult to be certain it won't happen again, which makes the decision to forgive and move forward even more challenging.
3. What will they do if they are in the same predicament in future?
Beyond the tears and apologies, it is important to consider what concrete assurances your partner can provide to prevent future cheating.
What guarantees can they give you that it won't happen again? Can they demonstrate a genuine commitment to change and ensure a different response? Are they willing to work through their own struggles?
Assessing their readiness to take responsibility and make meaningful changes is important before deciding whether forgiveness is possible.
4. Have you always been honest with each other?
Was he someone you could trust?
It may feel like a stretch right now, particularly since you've been shocked by the news of your partner stepping out of the confines of your relationship. Trust will need to need to be rebuilt, there's no doubt about that.
But if you have a history of honesty and transparency in your relationship, and you feel you've been able to trust one another in the past, it's possible to view it as a one-time incident.
A person's character or personality doesn't change dramatically overnight, so if you still see the person you fell in love with and trust their remorse, giving them a chance may be worth considering.
5. Do you still love each other?
This might seem obvious but it is a really important question.
If both partners still love each other and are willing to give the relationship another chance, there is a foundation to work with.
You might be tempted to think, "If they loved me, they wouldn't have cheated" but remember that people can love their partners and still make mistakes.
If you both acknowledge the mutual love and desire to start fresh, focus on rebuilding trust, improving communication, and showing respect for each other. It's an opportunity to build a new relationship.
Your old relationship, the damaged one, is dead. You now need to rebuild a new one.
Keep in mind that forgiveness is a personal decision, and there is no one-size-fits-all approach. Consider the severity of the betrayal, the level of remorse displayed by your partner, and your own emotional well-being when deciding whether to forgive.
JOIN OUR PULSE COMMUNITY!
Recommended articles
Make the perfect fruit cake using wine
5 tips to celebrate a low-budget Christmas
Netizens slam Kibera food vendor who sold French vlogger ugali-matumbo for Sh1,000
3 interesting benefits of backing babies
10 indicators of an exceptional nanny you wouldn't want to lose
4 questions you should stop asking people
10 simple ways to quickly cook delicious pasta
Commentator & girlfriend share relationship journey as they announce 1st pregnancy
The Gastric Balloon: Unveiling a non-surgical route to weight loss in Kenya