Embu County
Ishiara market is in particular popular for being the largest goat market in the region.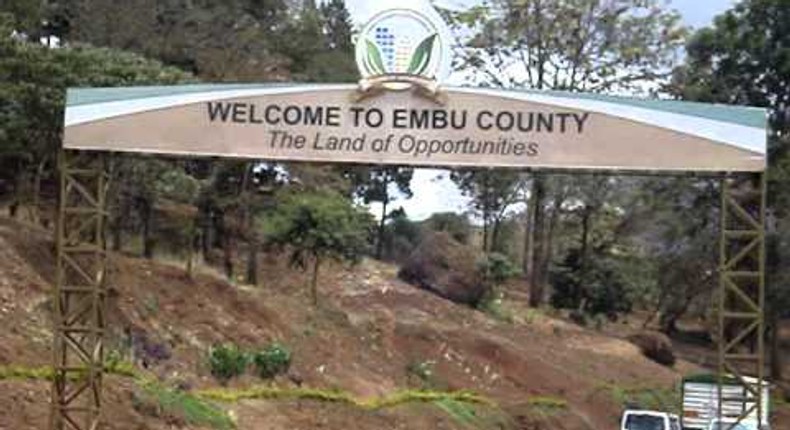 Embu County lies some 120 kilometers north east of Nairobi, on south-eastern side of Mount Kenya.
The county covers an area of 2,818 square kilometres.
The county borders Tharaka Nithi to the North, Kitui to the east and Machakos to the south, Murang'a to the south west and Kirinyaga to the West.
Also known as Kirimari, meaning top of the hill in Kiembu, Embu town serves as the county's administrative capital.
Embu County comprises of four constituencies: Runyenjes, Manyatta, Mbeere North and Mbeere South.
The county's top leaders are Martin Nyaga Wambora (Governor), Mohammed Birik (County Commissioner), Lenny Kivuti (Senator) and Rose Mitaru (Women Representative).
The current members of the National Assembly representing the four constituencies are Rev. Mutava Musyimi (Mbeere South), Charles Muriuki Njagagua (Mbeere North), John Muchiri Nyaga (Manyatta) and Cecily Mutitu Mbarire (Runyenjes).
The People of Embu County
Embu County has a population of 516,212 (49% - male and 51% - female), according to the 2009 National census. Although the county is named after the indigenous Aembu people, other tribes call it home; Mbeere, Kamba and Kikuyu.
The Aembu people, who share key cultural and traditional values with the Kikuyu and Meru are mainly farmers. Many of them live in the well-watered northern side around Runyenjes, Embu and Manyatta towns.
Tea and coffee are the community's main cash crops. They also grow food crops such as maize, beans, sorghum, cassava, millet, horticultural crops and substantial dairy keeping.
Mbeere people are to be found around Siakago, Ishiara, Kanyuambora and Kiritiri towns. They mostly practice small scale farming, bee keeping and livestock rearing. Ishiara market is in particular popular for being the largest goat market in the region.
Living on the lower side with relatively low rainfall, Mbeeres grows cash crops such as cotton and food crops such as maize, cow peas, beans, pigeon peas and green grams.
The Akamba people live in lower parts of Embu County around Makima. While they are natively known for their carving and basketry skills, Kambas also do a lot of subsistence farming, bee keeping and goat rearing in Embu. Some of the crops growing in the area include cowpeas, green grams, sorghum, millet among others.
The Kikuyu people living in Embu county are mainly traders, business people and civil servants working in government corporations and institutions.
Apart from being skillful in entrepreneurship, the Kikuyus also like farming and a number of them have bought land and settled in the peripheries of Embu town.
Religion and Culture in Embu County
Majority of people living in Embu County are Christians. There are numerous churches and ministries, with mainstream churches such as A.C.K, Roman Catholic and P.C.E.A having the largest following.
Evangelicals include Deliverance, P.E.F.A and Full Gospel Churches among others.
There are a few Muslims residing mainly in major towns. In Embu town for instance, Muslims live in Dallas estate.
Major Towns in Embu County
Is the most developed urban center and administrative capital of Embu County. Primarily a civil servants' city, the towns' population has drastically risen over the last 10 years attracting a real estate boom.
Located towards the border of Embu and Tharaka Nithi counties, Runyenjes town is an important trading center between the two counties.
It lies some 30 kilometers from Embu town, and is a significant marketplace for small-scale farmers drawn from the surrounding townships.
Set just below Kiang'ombe hills some 25 kilometers south of Embu town, Siakago is a key trading center for agricultural and livestock products, mostly serving Mbeere people.
Located some 30 kilometers south of Embu town along Matuu-Mwingi road, Kiritiri has been growing rapidly, owing to its proximity to the famous 7 forks hydroelectric power dams. The regions surrounding the town are also popular with livestock, especially goat keeping, making the town a significant marketplace.
Climate and Weather in Embu County
Because of its location at the foothill of Mount Kenya, the county's temperatures are estimated at an average of between 9°C - 28°C. The county receives substantial rainfall with average annual precipitation of 1206mm.
The wettest season is experienced between March and July while the hottest comes between January and mid-March. Much of the land is largely arable and is well watered by a number of rivers and streams.
Economic Activities in Embu County
Agriculture is the main driver of the economy in this county with over 70% of the residents being small scale farmers. Small percentages are business people and civil servants working in government institutions.
Tea, coffee and cotton have been the main cash crops. However, due to their falling prices, many farmers have in the recent years started growing other crops. Mango farming has become a robust economic activity, finding market as far as Nairobi.
Owing to county's vibrant real estate, sand harvesting has lately become a lucrative business. One of the key up-and-coming economic incentives is the upgrading of Embu airstrip to airport status, which is expected to link up the county's agribusiness to external market.
Health Facilities in Embu County
Among the most prominent health facilities include Embu Provincial General Hospital (Embu town), Runyenjes District Hospital, (Runyenjes town) Siakago District Hospital (Siakago), Consolata Hospital, Kyeni (near Runyenjes), Liberty nursing Home (Embu town), Ishiara sub-District Hospital, Kibugu Health Center and Joy Kim Nursing Home in the outskirts of Embu town that all serve the needs of the residents.
Embu County is renowned for its numerous learning institutions. As of 2013, there are 450 primary schools serving 125,420 students and 145 secondary schools serving about 27,000 students. The ratio of pupil to teacher in public schools stands at 1:35 while that of student to teacher in public secondary schools is 1:25.
Some top schools include Kangaru girls' and Kangaru boys' high schools, Kyeni girls' secondary near Runyenjes, St. Mary Kiangima girls boarding school, Kiambeere school complex, Nguviu boys, Nguviu girls secondary schools among others.
Insitutions of higher learning include Embu Unievristy College, Government training Institute (GTI), University of Nairobi, Embu University College formerly E.A.S.T College and Kenyatta University campuses all located within Embu town.
Notable Personalities in Embu County
Some of the famous people from Embu county include head of Catholic Church in Kenya Archbishop Cardinal John Njue, former long serving cabinet minister Jeremiah Nyagah, Safari Rally champion Patrick Njiru and the current Speaker of the National Assembly Justin Muturi.
Attractions and Places of Interest in Embu County
Embu County has an array of sights, both endearing to local and foreign visitors.
Some places of interest include Mwea National Reserve near Makima town, Mount Kenya climbing expeditions and National Reserve and Karue Hill picnic site off Embu-Runyenjes road and 7 folk hydroelectric power plants near Kiritiri town.
The wildlife found in Mwea National reserve include hippos and crocodiles, elephants, zebras, Impala, baboons, monkeys, water bucks, crested porcupine and buffalo among others.
Facing Embu, Mount Kenya is perhaps the most eye-catching feature. Besides mountain-climbing, the abundance of endemic plants, wild animals and bird species is a huge attraction to the mountain.
Also the favorable altitude around the mountain makes Embu one of the preferred locations for sports training, prompting the Athletics Association of Kenya to set up a training camp at St. Mark's Kigari Teachers' college.
Administrative Subdivisions
Embu County is divided into five sub-Counties; namely, Embu West with headquarters at Embu town, and Embu North with headquarters at Manyatta.
These two form Manyatta constituency, Embu East with headquarters at Runyenjes, Mbeere North with headquarters at Siakago, and Mbeere South with headquarters at Kiritiri market.
Political Units in Embu County
Embu County has four parliamentary constituencies, namely Runyenjes, Manyatta, Mbeere North and Mbeere South.
JOIN OUR PULSE COMMUNITY!
Recommended articles
Find out why doctors are concerned with rise in oeosophageal cancer cases
Uhuru warns Africa's GDP may fall by 30 percent
DCI summons Nairobi acting governor Ann Kananu
CBK revokes mobile payments service provider
Ruto and Waiguru speak after hearty reunion [Video]
Two teachers flee with Ruto's Sh1 million cash donation
Ruto pens birthday message to Uhuru
Governor Anne Waiguru joins DP Ruto's UDA
Wheelbarrow gets new meaning during Ruto's tour of Ukambani