President Uhuru Kenyatta's daughter, Ngina Kenyatta over the weekend flew to the South African city of Johannesburg for the Global Citizen that was headlined by celebrity couple Jay Z and Beyonce.
Ngina led a big entourage from the Kenyatta family which included her aunt Nyokabi Muthama (Uhuru's younger sister) and her cousins Javi Pratt (who wore a Jubilee branded top), Nana Gecaga, Wana and Samatha, among others.
Wana and Samantha are Nyokabi's daughters.
Global Citizen Prize for Youth Leadership
They joined thousands of music fans, many of whom had received free tickets to reward their activism and campaigning work, all in honor of the life and legacy of Nelson Mandela.
Kenya's philanthropist Wawira Njiru was announced winner of the 2018 Global Citizen Prize for Youth Leadership.
It was Nana and Wawira who shared some of the behind-the-scenes photos, enjoying their time at the festival.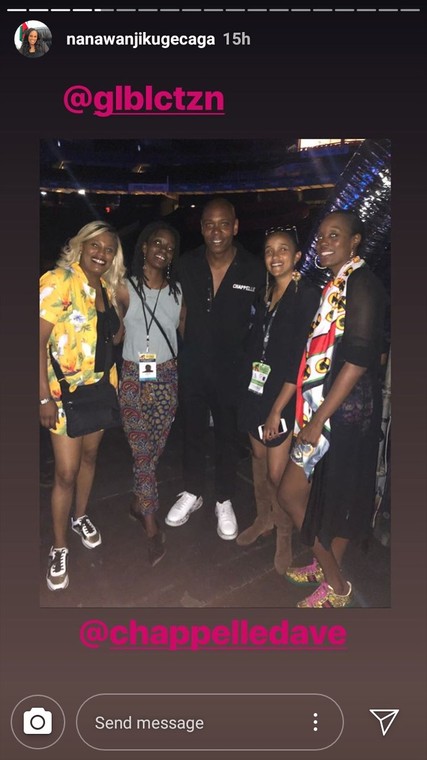 In one photo, Wawira is seen with Ngina, Nana, and Wana posing with comedian Dave Chapelle.
Another photo was shared by the Twitter handle of the South African Presidency showing Nyokabi Kenyatta chatting with the spouse of President Cyril Ramaphhosa - Dr Tshepo Motsepe.
FNB Stadium
President Kenyatta, who had been invited for the festival, did not show up at the event hosted at FNB stadium, instead sending a video message.
He pledged to increase budgetary allocations meant for educating the youth to 30 percent, making it the highest on the African continent.
Other dignitaries who attended the event include media mogul Oprah Winfrey, comedian Trevor Noah, activist Reverend Al Sharpton, among others.