4 suspects assaulting man in viral video arrested
They were arrested on Friday!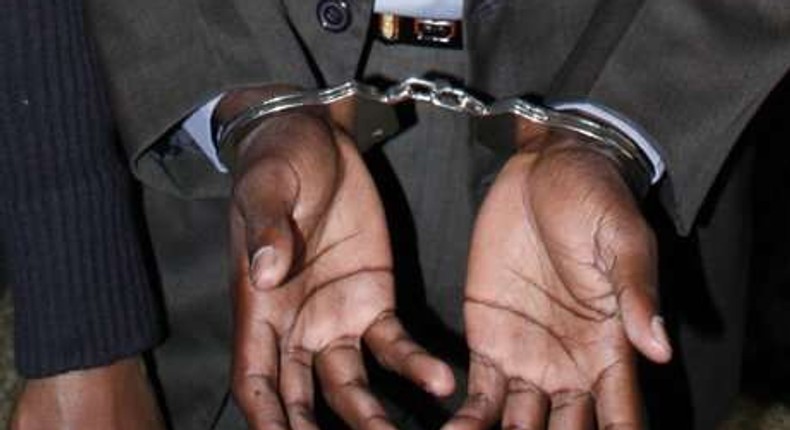 The Directorate of Criminal Investigations (DCI) have arrested four suspects captured in a viral video assaulting a man.
In a tweet, DCI announced that three other suspects had gone into hiding and they were being sought after, by detectives.
The four who were arrested are Robert Momanyi, Collins Neriko, Stanley Rimbere and Stephen Kimeu. They will be arraigned in court on Monday.
DCI added that further investigations are underway and the matter will be brought to conclusion.
"FOUR suspects captured on video assaulting a Man have been arrested & placed in lawful custody. They are:- Mr. Robert Momanyi, Mr. Collins Neriko, Mr.Stanley Rimbere and Mr. Stephen Kimeu. Three others-who are at large-are being sought by Detectives. To be charged on Monday. The complainant recorded his statement after being issued with a P3 Form. Further investigations are underway to arrest the other suspects who are still at large. The takes this opportunity to assure the public that the matter will be investigated to its logical conclusion," tweeted DCI.
According to reports, Kevin Mango a University student was invited into a house in Kilimani to have drinks by Robert Momanyi a former MP Aspirant.
He was then assaulted by seven men, before he managed to escape at 5am.
JOIN OUR PULSE COMMUNITY!
Recommended articles
Governor elections in Mombasa and Kakamega postponed
ANC reveal Mudavadi nominated for new lucrative position
Ruto's tactic to control Parliament pays off
President-elect Ruto unveils raft of changes he will introduce in government
Nobody is perfect - Magoha apologises for offensive utterances
CS Magoha: What happens if Supreme Court orders repeat presidential election?
Judge throws out CJ Koome's new rules on hearing of presidential results petition
Why Supreme Court changed venue of hearing Raila's presidential election petition
Ruto expected to respond to Raila's rejection of the presidential election results