These are the new tactics Al Shabaab is now using to recruit members
The methods and aims driving Al-Shabaab recruitment have changed in response to the government's crackdown on the terror group.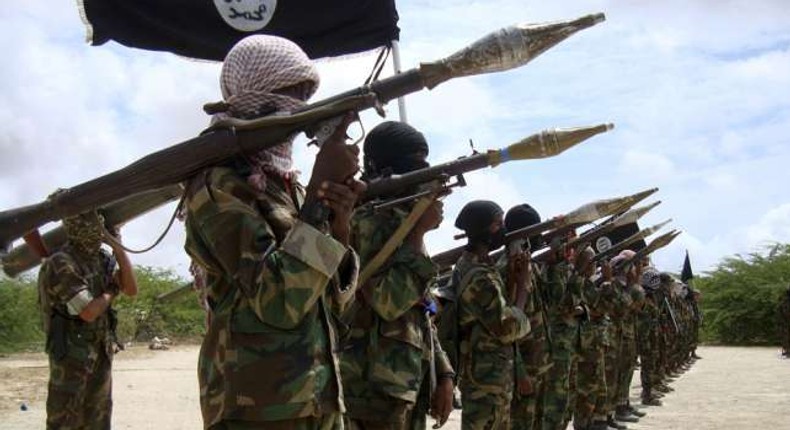 The terrorist group Al Shabaab has now changed tactics in their recruitment of new members.
Al-Shaabab has been responsible for one of the most deadliest attacks on Kenyan soil.
The terror group was responsible for the 2013 attack on the Westgate Mall in Kenya's capital, Nairobi, that killed 67 people and the 2015 attack on Garissa University in Kenya that killed more than 120 people most of them students.
The group has now turned to Kenyan jails to recruit dangerous and convicted hard-core criminals to support its terrorist activities in the region.
Terror suspects have now infiltrated the prison system, transforming them into agents for the group.
Many of those who carried out the attacks were Kenyan citizens.
According to officials in Kenya's National Security Intelligence Service (NSIS), the militants are also increasingly luring well-educated university students to the group, thereby penetrating institutions of higher learning with recruitment, training and indoctrination efforts.
Like the slum youths Al-Shabaab previously targeted, students and recent graduates are been offered money, jobs and opportunity.
Reports indicate that al-Shabaab may be seeking the development of chemical weapons to employ in East Africa. Perhaps for this reason, recruits with science background – such as chemical, electrical, and mechanical engineering – have reportedly been a priority.
Although the recruitment process has netted young people from all parts of Kenya, the majority are from Muslim-dominant regions in the country's northeastern territory.
The recruits' presence in the militant group has been put on display by its propaganda videos, which feature fighters speaking a Kenyan Kiswahili dialect.
One of the Garissa University College attackers was a prior University of Nairobi (UON) law student.
JOIN OUR PULSE COMMUNITY!
Recommended articles
Housing Levy ruling: Edwin Sifuna tells Kenyans to halt celebrations
3-judge bench rules that affordable housing levy is unconstitutional
High Court suspends implementation of Ruto's key health law
Hussein Mohamed: Why Cabinet hasn't declared El Nino a national disaster
Biden to skip UN Climate conference kickoff in Dubai, White House schedule confirms
Azimio MP's brother found dead
Ruto endorses National Dialogue Committee recommendations, reveals next steps
Martha Karua speaks as focus shifts to Ruto & Raila after NADCO report release
Key recommendations of the National Dialogue Committee submitted to Raila & Ruto