Uhuru's approval ratings drops as Raila takes the lead in NASA, Ipsos
Uhuru approval has dropped by six per cent with only 175 days to general election on August 4.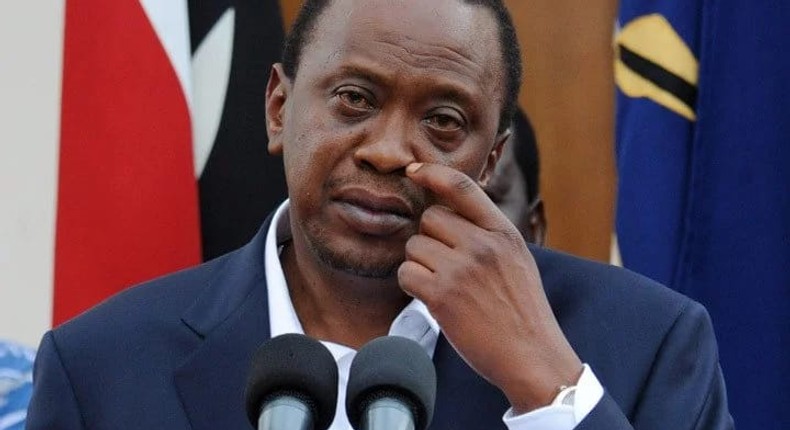 President Uhuru Kenyatta's approval ratings have dropped in the latest survey conducted by Ipsos Kenya.
The poll shows that though 66 per cent say they have confidence in the President, only 57 per cent approve of his performance in the last three months.
According to the poll, Uhuru's performance approval ratings have dropped from 78 per cent in 2014 to 57 per cent this year.
A total of 2,097 respondents were interviewed in this survey. The margin of error was -/+2.16 with a confidence level of 95%.
However Uhuru still faired well in terms of confidence levels, with  42 per cent of respondents saying they have a lot of confidence in him compared to his fiercest critic, Raila Odinga  who garnered 28 per cent approval ratings.
In the poll, 35 per cent of those sampled were of the opinion that the Head of State performed poorly in the last three months and a paltry 8 per cent had no opinion.
Those who have approved of the President's performance over the last three months attributed it to infrastructure (41 per cent), improving the education system (14 per cent), the economy (11 per cent) and combating corruption (seven per cent).
Those against Uhuru's performance cited abetting corruption (46 per cent), the economy (18 per cent), labour relations and strikes (eight per cent) and poor infrastructure (5 per cent).
Kenya is also in the midst of a biting drought which is ravaging parts of the country. Approximately 2 million Kenyans are at risk of starvation.
President Uhuru's government after months of downplaying the crisis finally threw in the towel last week and declared the drought a national disaster.
The Kenyan economy is expected to be hard hit by the ongoing drought not to mention the August polls.
Tom Wolf, Ipsos lead researcher said that almost half of those who approved the President's performance feel that the country was heading in the right direction.
On the other hand, those who disapproved of the performance, 84 per cent, said that the country was heading in the wrong direction.
The high cost of living (22 per cent); corruption (21 per cent); lack of employment, (17 per cent); and the ongoing drought (14 per cent) were some of the problems that Kenyans said they face.
JOIN OUR PULSE COMMUNITY!
Recommended articles
Why Ruto has slashed Sh300 billion from 2022/23 budget
2 Sugoi women stranded for weeks after attending Ruto's inauguration
7 key changes Ruto has made in his Cabinet
Breakdown of ODM's Sh10 billion assets
Ruto sued over Mutyambai's replacement
Raila's demands after lawyer Paul Gicheru's death
Ruto's agreement with top bank CEOs on loan defaulters
What next for top exiting Cabinet Secretaries?
Kabogo: Why Kenyans think he was the biggest loser after Ruto named cabinet