5 things Stephanie Otobo said about Cleric in new interview
"He gives me a lot of cash. I am not talking about 8000 Euros, I am not talking about $12, 000, in two weeks," Stephanie Otobo tells all.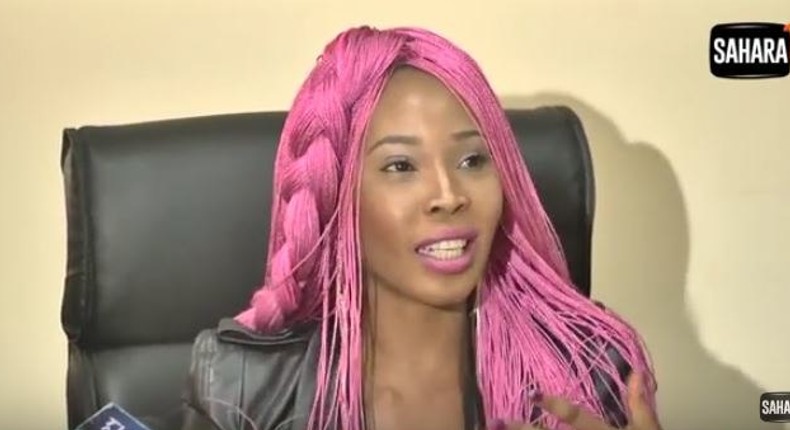 In the wake of the sex scandal involving
Barely 24 hours after being released from Kirikiri Prisons, the Canada-based Nigerian stripper granted two exclusive interviews to Sahara Reporters, revealing details of her amorous relationship with the man of God.
Amongst the many things she had to say, here are five of the most shocking.
1) Apostle Suleiman spent over 8000 Euros, including the proceeds from a crusade on Stephanie Otobo.
"He gives me a lot of cash. I am not talking about 8000 Euros, I am not talking about $12, 000, in two weeks.
"If I was a cheap prostitute, how much do you send a cheap prostitute all the way from Nigeria to Canada? I live, I base in Canada. I'm sure there a lot of women that needs money here in Nigeria.
"Like how many people has he sent money to? How many women or cheap prostitutes has he sent money to here in Nigeria?"
2) Stephanie Otobo claimed to have original pictures from her video chats with Apostle Suleiman, including those of his manhood, shared during calls.
She also revealed that the man of God loved sex.
"Well…it's not very small, it's an average size," Ms. Otobo responded.
"He's very good (in bed), he likes to end it off on the back, on your back all the time, I don't know why.
"And also, even while sleeping, he doesn't wanna stop, he's dozing off he goes 'continue,' I go 'Daddy, you're sleeping.' He doesn't wanna stop, he wants to keep going while sleeping."
3) Kimora revealed that Apostle Suleiman gave her a substance to drink that almost cost her life.
She said, "Also, I want the police to check on the issue of when he gave me a substance to drink and that almost cost me my life.
"This was what happened, this was one of the main reason that really caused all of this.
"He gave me substance to drink after I got pregnant. He gave me substance to drink and I started bleeding, stooling blood. for over one year. It almost cost me my life.
"I was bleeding for so long, I was so scared and I lost the baby. so that was an abortion from a pastor, an Apostle."
4) Stephanie also claimed that she is not the first lady Apostle Suleiman has had an affair with. She also named Nollywood actress, Daniella Okeke as the cleric's ex-girlfriend.
5) She described the respected man of God as a baby that "cannot eat" and that she had to "pet" him.
"But I know he can't eat because I can say things that I saw when spending time with him. He has… I don't know you know when the wicked runneth when no one is pursuing them, he just can't eat, he's worried, he's always worried.
"He can't eat, he wants me to pet him to eat, then I'll beg him 'Daddy please eat,' and he goes 'I love you so much.'"
Watch the full interview below.
JOIN OUR PULSE COMMUNITY!
Recommended articles
Ahmednasir criticises how CJ Koome received Ruto in Parliament
Why Ruto has slashed Sh300 billion from 2022/23 budget
2 Sugoi women stranded for weeks after attending Ruto's inauguration
7 key changes Ruto has made in his Cabinet
Breakdown of ODM's Sh10 billion assets
Ruto sued over Mutyambai's replacement
Raila's demands after lawyer Paul Gicheru's death
Ruto's agreement with top bank CEOs on loan defaulters
What next for top exiting Cabinet Secretaries?