It's been 30 days without internet access in Cameroon
The shutdown, which began on January 17, 2017, is yet another example of an African government flagrantly misusing its powers and infringing on human rights.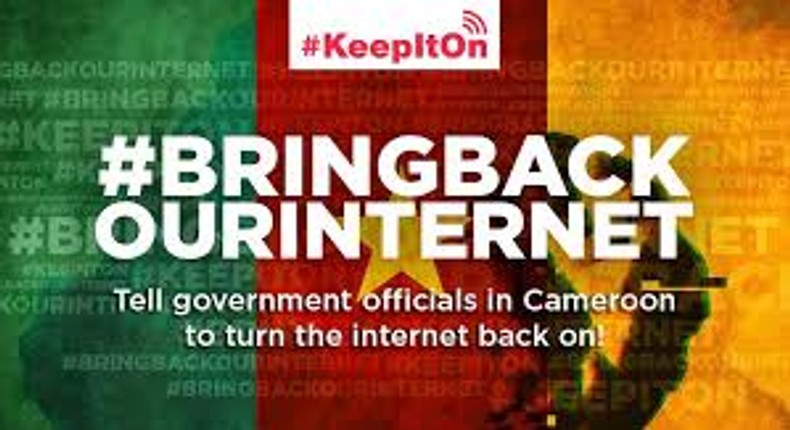 Today makes it 30 days since Internet has been shut down in the Southwest and Northwest of Cameroon.
The shutdown, which began on January 17, 2017, is yet another example of an African government flagrantly misusing its powers and infringing on human rights - something that is fast becoming commonplace on the continent.
In 2016, citizens were cut off from the internet a total of 11 times across Africa. By any metric, that is an astonishing number - people losing money, being denied their basic right to expression and communication just because a government (which they may have even 'elected') feels threatened by its own people? Ridiculous.
But what led to the Cameroon situation? Well, Cameroon is as diverse as it gets, for starters. The central African nation is home to over 200 linguistic groups, numerous major ethnicities and considerable Christian, Muslim and animist populations.
But the most prominent difference within the nation's population is between the majority French-speaking regions and minority English-speaking regions. It even has parallel education and legal systems that operate in either region of the country. That's a lot of differentiation.
The country's constitution equates both English and French as its official languages and says they hold "the same status." But most of the business, government and administration is done in French - the country's President Paul Biya rarely speaks English in public - and residents of the Anglophone regions have long complained of economic and political marginalisation.
Those complaints reached a crescendo in November 2016 when lawyers in Bamenda, the capital of the Anglophone Northwest region, publicly protested an alleged imposition of French courts in the Anglophone region.
Teachers also joined in with sit-in protests in the Northwest and Southwest regions. Cameroon runs two parallel schooling systems (Anglophone and Francophone) and the English-speaking teachers were fighting against French speakers with poor English skills being hired in Anglophone schools.
According to various reports, several people were arrested during the protests which saw clashes with security operatives. The following month (December 2016) four people were allegedly killed when security operatives used live ammunition and tear gas to dislodge an alleged protest in Bamenda. This led international organisations to call for an investigation.
By January 16, 2017, the government had started issuing statements warning social media users that they could face "criminal penalties" if they were found "issuing or spreading fake news" on social media.
The government, via the Ministry of Posts and Telecommunications, also sent text messages to Cameroonians, warning them of two-year prison sentences if they published information "that you can't prove" on social media.
The next day, on January 17, Internet services in the Northwest and Southwest regions were cut off. The government has refused to give an official reason for the ban, but a lot of people (including Edward Snowden) believe it is linked to the protests.
Two leading figures in the protest; Barrister Nkongho Felix Agbor-Balla, President of the Anglophone Civil Society Consortium, and Dr Fontem Neba, secretary general of the group, were arrested the same day and airlifted to the nation's capital Yaounde.
The ban has left about 20 percent of the nation's 23 million strong population without Internet access. Activist group Internet Sans Frontieres says the ban has cost the country's economy about 443 million West African CFA Francs (about $723, 000).
"This worrying pattern of arbitrary arrests, detention and harassment of civil society members is entirely at odds with the international human rights law and standards that Cameroon has committed to uphold," said Ilaria Allegrozzi, Central Africa researcher at Amnesty International.
President Paul Biya, who has been ruling Cameroon since 1982, said in a new year's eve national address that while Cameroonians should feel free to express legitimate concerns - even through strike actions - violent protests would be crushed by security forces whilst emphasising that Cameroon is "one and indivisible."
The Internet shut down has prompted a #BringBackOurInternet campaign from Cameroonians in the unaffected areas of the country, tech stakeholders in the country such as Rebecca Enonchong and aggrieved Cameroonians abroad.
So far, the only positive story to emerge from the entire situation is that of Collins Nji, a 17-year-old Cameroonian teenager who, despite the internet shut down in his hometown of Bamenda, is now the first African to win Google's Code-In hacking for pre-university students between the ages of 13 and 17 where the students are given a variety of bite-sized tasks to hack open source software.
There is no telling when the citizens in the affected parts of the Internet ban will be able to communicate with their families again or conduct business. But Africa is watching, and so is the rest of the world.
JOIN OUR PULSE COMMUNITY!
Recommended articles
Senators propose changes in the hiring of teachers
Kenyans resurface video of Hussein Mohammed cornering Uhuru over housing levy
MPs break protocol after Haji declines to reveal his net worth
How Nairobi's slumlords rake in more cash than Runda, Muthaiga landlords
How Kibaki's moment of genius in a Nairobi bar altered Kenya's history
Apostle charged over swindling ACK church Sh2 million
Top TV, radio stations & digital news sites among Millennials & Gen Zs
DP Gachagua opens up on past struggle with alcohol, calls for radical crackdown
How Ruto's ambitious Sh1.3 trillion plan can avoid the curse of gov't projects
Thika Sports Club, next stop for NCBA golf series
Big Ted's inspiring message to Kenya's rugby community
Fitness influencer Shiv Simani joins fight against sports neglect by gov't
Kipchoge wins Sh7.4M prize in Spain
Ombachi shares how career-threatening injury pushed him into content creation
Ruto donates millions after AFC Leopards beats Gor Mahia for 1st time in 7 Years
Ulinzi Stars midfielder returns from four-month injury layoff
Kenya's thriving sports culture: A deep dive into the country's passion for sports betting
The 8 largest events in Las Vegas 2023