I moved in with my boyfriend right before January, that was the worst decision I made [Part 2]
I have talked to the caretaker, we won't be thrown out - Kavingu.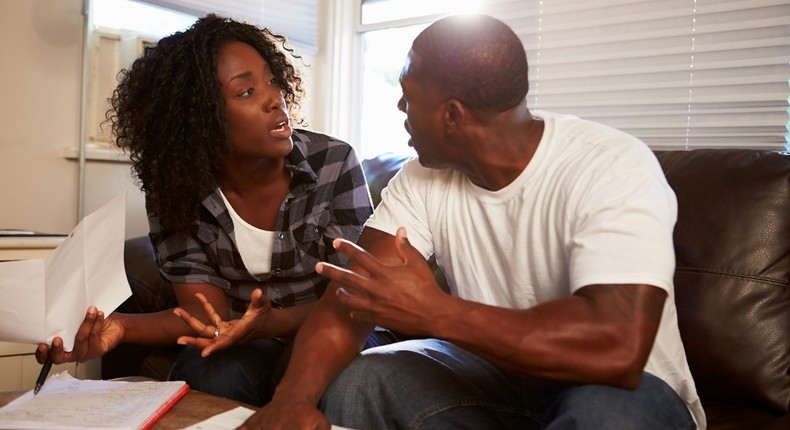 Got back to work after December Holiday
Having arrived safely back in Nairobi, we prepared and got back to the grind. Things were flowing well until January 15th, when we had a little fight over how much time he was spending with his friends.
To my interrogative mind, I just couldn't comprehend how after a week of only seeing each other between 8 pm and 10 pm, he still prioritized going out on Friday night, sleeping in on Saturday morning while I was away at work and by the time I got home, he would be out again.
Of course I'm in church on Sunday while he's asleep and when I'm free in the afternoon he is nursing a hangover.
"Unatoa wapi doh ya kushinda unakunywa? Kwani wewe ni mwizi because I know you only earn 50k?" I questioned, well, it was more like I shouted.
"What is your problem? Umelala njaa? Umetupwa nje ya hao? Umekosa fare? Have I cheated on you? Usiniongeleshe like I'm failing as a man, I won't take that," he fired back. Don't be fooled, we are very much in love.
Pulse Live Kenya
Unpaid Rent for two months
I would not relent so I demanded receipts and a proper account of how all his money had been spent because in my books, I was running the house alone.
Well, my larger than life "trial husband" informed me that we hadn't paid our Sh 22,000 per month rent for December and January because he was busy trying to make me happy.
Misplaced Priorities or Stupidity?
I was shocked and scared but that did not overshadow how furious I was, "How could you not pay the house rent yet we visited Mombasa? We went to Machakos? How is that even possible?
"What kind of a man would rather be thrown out of the house but post good Watamu photos on Instagram? Are you insane or just plain stupid?" I may have gone a bit too far with that one but I meant every word.
Pulse Live Kenya
K is these cavalier types who size you up and decide you're not worth the drama but on this day he let me have it, I was sure he would hit me as he paced and pointed but he concluded the argument with one statement.
"Stop being so dramatic, I talked to the caretaker, nitakua nimelipa by Friday. I'm not a failure as you want me to look," he dismissed me.
Pulse Live Kenya
I've never felt this betrayed in my life especially by the person I trusted and loved the most. I had never encountered such as situation. How do you make someone happy by burdening them with more problems, I couldn't fathom Kavingu's reasoning.
Questions that made my Mind spin
Why did he wait that long to tell me this? What is this "making you happy" that spends rent money for two months? Who died and made him king of making people happy? And where on earth is he going to get rent money and pay within three days?
Pulse Live Kenya
K had to do this to me in Njaanuary of all months. I never thought I'd be a victim of this but now I'm considering Tala, Branch, selling an arm, donating a kidney and hawking my "trial-husband". Who's buying?
Read Part 1 of this article here.
This article is based on real events. Names of the persons involved have been withheld as per their request.
JOIN OUR PULSE COMMUNITY!
Recommended articles
3 arrested in connection with shooting of senior chief
Sifuna declares admiration for his celeb crush & gets unexpected response [Video]
Security breach forces Police IG to miss Ruto event
Unicaf & the University of Suffolk announce 3 new British Bachelor's Degree programmes
Luo Council of Elders chair appeals to Raila over planned protests
IEBC vice chair Juliana Cherera resigns
Police probe murder of Recce Squad officer in Nakuru
Ruto's instructions to Interior CS Kithure Kindiki ahead of Raila's protests
Youthful MP speaks on nearly losing life during foreign trip this week