Sanchez bust-up reports 'completely false', says Arsenal manager
The Arsenal manager played down the possibility the Chile forward might leave the club during the close season.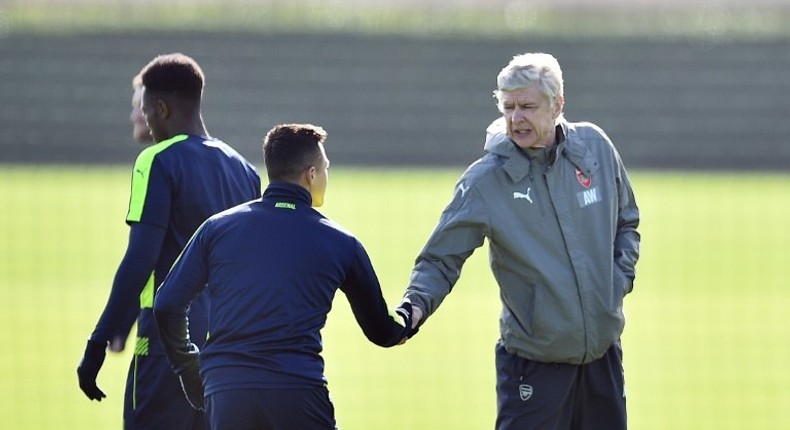 Arsenal manager Arsene Wenger dismissed reports of a training-ground bust-up involving star forward Alexis Sanchez as "completely false" on Monday.
Sanchez, 28, was reported to have stormed off the training pitch last week before becoming involved in an angry confrontation with his team-mates.
He started Saturday's 3-1 Premier League defeat at Liverpool on the bench, coming on at half-time and making a goal for Danny Welbeck.
But when asked about the reports at a press conference prior to Tuesday's Champions League last-16 second leg against Bayern Munich, Wenger said they were "completely false".
"Nothing happened, nothing at all," Wenger told reporters at Arsenal's London Colney base.
"But I understand that you have to fill the newspapers and we respect that. When you don't win the games there are sometimes stories."
Wenger said tactical factors had been the "unique reason" for his decision to start with Sanchez on the bench at Anfield, where Olivier Giroud and Welbeck started up front.
"His attitude is he's a committed player," Wenger said of Sanchez. "Sometimes with excessive behaviours, but he's been in every squad."
Wenger said his relationship with Sanchez was "honest and normal, like with every single player" and played down the possibility the Chile forward might leave the club during the close season.
"Alexis Sanchez has 15 months on his contract so the decision on whether he stays will depend on Arsenal Football Club, not on anybody else," said the Frenchman.
Sanchez took part in training on Monday and shook hands with Wenger before the session.
He has been linked with a move away from Arsenal at the end of the season, with Juventus and Paris Saint-Germain among the clubs reported to be monitoring the situation.
Arsenal slipped out of the Champions League places following the weekend loss at Liverpool and must overturn a 5-1 deficit against Bayern to remain alive in this season's competition.
Wenger said he had yet to decide whether Sanchez would start against Bayern at the Emirates Stadium.
Sanchez, a July 2014 signing from Barcelona, is Arsenal's top scorer this season with 20 goals in all competitions and is seen as their most important player along with German playmaker Mesut Ozil.
But as Arsenal's form has dipped, his on-pitch displays of frustration have become increasingly noticeable.
Wenger conceded on Saturday that his decision not to start with Sanchez at Anfield had backfired, but said he had "no special regrets" about the call.
Former Arsenal striker Ian Wright said he would be looking to leave the club if he was in Sanchez's position.
"If I can't get in Arsenal's team when they're coming to places like Anfield when you need to win to try and stay in the top four and there's unrest around him anyway, why do I want to stay?" Wright said on BT Sport.
"We're not actually challenging for anything. We got hammered out of the Champions League.
"He is a sought-after player and if I'm sitting in the dressing room like Alexis Sanchez today, his agent is probably making phone calls now!"
More from category
'This is massive injustice' - Xavi complains about missed penalty for Barcelona against Inter

Xavi preparing for 'three finals' to avoid second straight Europa League season

'Dembele is the worst' - Reactions as Inter Milan shock Barcelona at San Siro
Recommended articles
'This is massive injustice' - Xavi complains about missed penalty for Barcelona against Inter
Xavi preparing for 'three finals' to avoid second straight Europa League season
'Dembele is the worst' - Reactions as Inter Milan shock Barcelona at San Siro
Fans hail Luis Diaz as Liverpool crush Rangers in UCL
Sadio Mane sets new record as Bayern Munich demolish Viktoria Plzeň
Chelsea in 'pole position' to land £87m AC Milan star