Self-proclaimed president of single mothers Esther Akoth popularly known as Akothee has rudely responded to a fan, after his comment on her Instagram page.
Trouble started for the innocent fan going by the name Eugene kipchumba after he asked the mother of five what lessons were her daughters learning from a caption she put on a video wishing her fans a Merry Christmas.
"What lessons are your girls learning from your sentiments???" asked Eugene.
Akothee who could not let it go without a response then said her daughters were learning the same lessons the fan was learning from her Instagram page.
She added that Eugene should go back to his mother's page and learn her sentiments too.
"@eugenekipchumba the same lessons you learning by sticking on this page, go to your mother's page and learn her sentiments too," said Akothee.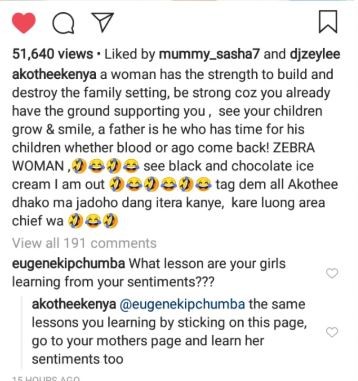 In her caption, Akothee said that a woman had the strength to build and destroy a home and that a father was someone who has time for all children, regardless of who's children they are.
"A woman has the strength to build and destroy the family setting, be strong coz you already have the ground supporting you , see your children grow & smile, a father is he who has time for his children whether blood or ago come back! ZEBRA WOMAN, see black and chocolate ice cream I am out tag dem all Akothee dhako ma jadoho dang itera kanye, kare luong area chief wa," read her caption.