Bridget Achieng worried over new developments in her pregnancy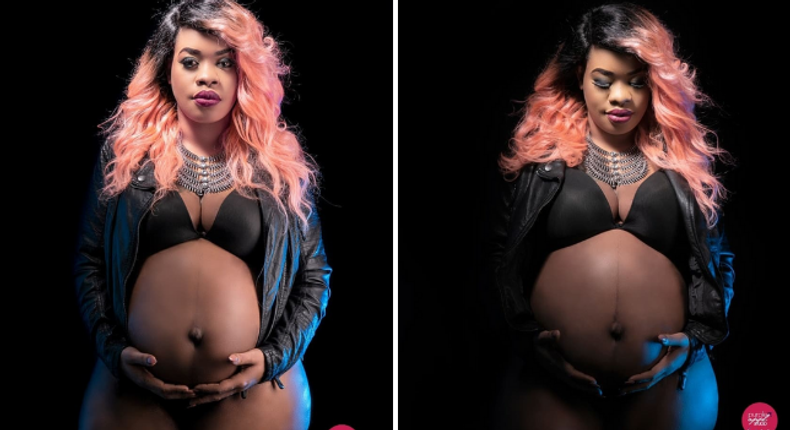 Nairobi Diaries' star Bridget Achieng recently revealed that she was worried about new developments in her pregnancy.
In an Instagram Live video, she disclosed that her unborn baby Sekani was getting too big and was already at a whopping 3.5 Kgs as she edged close to the due date.
She asked mums on her live video to give her tips on delivering the baby.
"He is already 3.5Kgs so I don't what I'm pushing with. Mothers are you there? Tell me how to deliver this baby he is already 3.5 Kgs. Anakula! Mashavu ziko kubwa. It's crazy," she said.
Pulse Live Kenya
In the same video, Bridget and Janet Mwaluda finally put a stop to claims about Nairobi Diaries' demise. Janet who produces Nairobi Diaries and Bridget were shooting an episode ahead of season 9.
"We are shooting tunarudi on air soon," Bridget said and Mwaluda affirmed her statement by saying "Tena sooner than you think in Jesus name."
Nairobi Dairies kept fans glued to their screens for 8 seasons before it suddenly went off the air.
No explanations were brought forth as to why the show no longer aired and so people started speculating. Some claimed that K24 decided to do away with it as the producers wanted more cash, others alleged that Nairobi Dairies was moving to a new station while others claimed that the cost of production had become too high.
Claims that the cost of production was unsustainable came months after Janet Mwaluda one of the producers confessed that it cost an arm and a leg to produce the show. "It costs a lot. It costs an arm and a leg. About 450-500 thousand. And you can never predict the costs. It's variable and can easily change," she told Parents Magazine.
Pulse Live Kenya
Thankfully, the rumours have finally been put to rest by the Instagram Live.
Recommended articles
Young Thug's defense lawyer said his name stands for 'Truly Humble Under God'
Claudia Naisabwa's media dream becomes reality in London
Jada Pinkett Smith says she and Will Smith are 'staying together forever' despite separation
DJ Kalonje talks about his side hustles after 12 years in the industry
Karen Nyamu declares war on 'Aluta Sunday' entertainment joints
Kenzo steps ahead of Cindy as he talks copyright with Museveni
Busta Rhymes describes working with Burna Boy as an incredible experience
Pastor Ng'ang'a surprises hawkers with Sh410K cash donation and business tips
Laika says Harmonize slid into her DMs; paid for Zanzibar, Dar trips