A timeline of Natalie Tewa and Rnaze's relationship
From how they met to the breakup.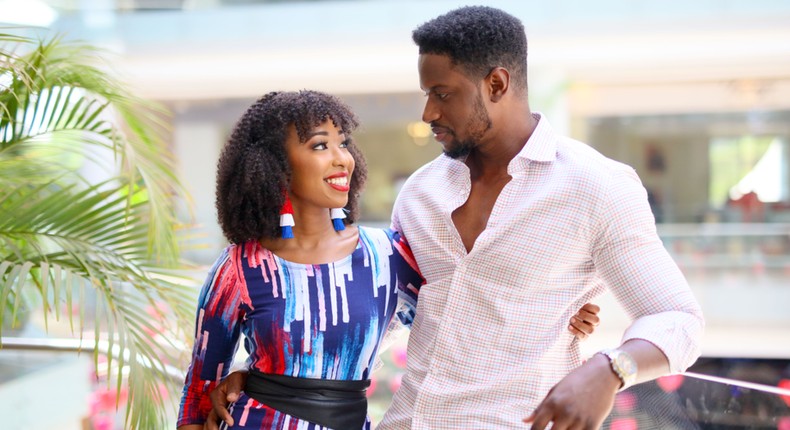 Natalie Tewa and Rnaze Mukibi's relationship went up in flames last week amid cheating accusations.
According to Rnaze, Ms Tewa cheated on him and that's why he decided to end their relationship.
"I have never posted my private life on social media, but let me say this only once to set the record straight for those who were invested. She cheated. I ended it. Came back from UG to a terrible surprise. I was only gone for 4 days...smh. That's the truth. My heart goes out to all the #BonnieandClyde fans who were invested. I am truly sorry. But life goes on sometimes you swing and miss," wrote Rnaze.
And on her part, Natalie accused Rnaze of being violent, opportunistic (he allegedly rode her wave) and broke.
"I was basically physically abused yesterday. If anyone saw what happened please speak out. Men should not ever get that far no matter what. If you know Rnaze you know he ain't shit. Brokest nigga I have been with, always prancing around creating a façade. Selfish AF and always riding on my wave to be famous. If you know you know," she posted.
But before their breakup, fans were besotted with the couple who they fondly called 'Bonnie and Clyde' after America's first outlaw media stars. This was after Rnaze, his adorable toddler and baby mama Brooke Gacheri accompanied Tewa on her trip to English Point Marina last year.
Pulse Live Kenya
After a picture of them went viral, the couple piqued the interest of Kenyans and soon many had a hankering to know what's up with Bonnie and Clyde. To satisfy the curiosity of fans, the couple did a Q& A by the pool where they disclosed that trust was so important that they had each other's Instagram passwords where they could access each other's DMs. In the video that excited a lot of Kenyans the couple revealed that they had a robust sex life that included making love a few times in a day. The video has since been pulled down.
Pulse Live Kenya
It was love at first sight for the two who met at a photo shoot in October 2017, and who can blame them? I mean they look like this.
"My friend invited me for a photo shoot and she wanted me to do the whole girls photo shoot I walked into a studio and who do I see? A very attractive photographer and I was like wow! Who is this guy? It's not every day you meet a person that makes you go like damn!" Natalie confessed during an interview with Vivo.
Luckily, the feeling was mutual and Rnaze could also not help but stare at Tewa who was having her makeup done.
"We were flirting the entire session," Natalie revealed
They had a date 2 weeks after that at Jay's at Karen at started off their relationship on November 11, 2017, and committed officially in February 2018.
"I love how caring he is very caring and thoughtful and loving to the people around him like family and people who are close to him, he gives his all. And then I love that he is very disciplined so I can trust him to be a husband and dad. He is good with money and he keeps me in check. He is also funny," Natalie on the qualities she loved about Rnaze.
Pulse Live Kenya
On Rnaze's part, Natalie's beauty, quirkiness and generosity were some things he loved about Natalie, "She is absolutely beautiful. Drop-dead gorgeous. She makes me a better person, I feel like it's been a long time since I met someone that makes me a better person. I find her quirky, she makes me laugh. She is also very generous."
In the interview, the couple also advocated for going public but keeping the details of your relationship private. Maybe they should have taken their own advice when it came to their acrimonious breakup but we all know that rules are quickly thrown out of the window once emotions run high.
"Not everything in your relationship should be public. I feel like a lot of people who put out their laundry to the world will set themselves up for failure and judgment and criticism," Rnaze said.
Get our Top Stories delivered to your inbox
Recommended articles
Grieving Nameless responds to fan's act of kindness
Rev Lucy Natasha pours heart out to Prophet Carmel to celebrate milestone
Diamond-Zuchu address relationship, Shaffie Weru opens up on firing from radio & more stories stories on #PulseUhondoMtaani
Nyashinski reunites with Kleptomaniax to thrill fans at Shincity - Eldoret [Videos]
Boniface Mwangi's parting shot as he takes a break from social media
KTN's Saada Hassan, Suleiman Shahbal win awards
Akothee pens heartwarming message on reconciling with sister after fallout
People mistake me for Nigerian but I enjoy the attention - Camidoh
Nigerian hypeman turned singer Jerry Shaffer makes debut tour in Kenya