Mutua loses first round in court battle against Lilian Nganga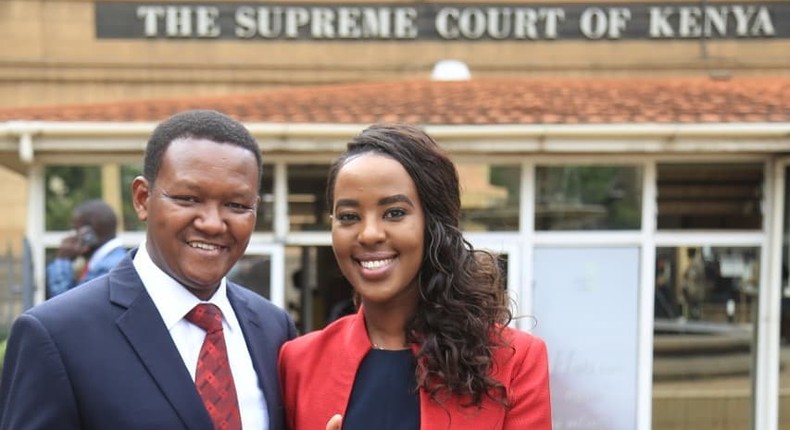 Machakos Governor Alfred Mutua has lost the first round against his ex Lilian Nganga.
The court on Tuesday, November 9 declined his application to have Ms Nganga's property suit dismissed.
Lilian sued Mutua and accused him of illegally repossessing her property and transferring her shares in their joint venture back to him.
Machakos Governor Dr. Alfred Mutua
Speaking during a November 4, press conference accompanied by lawyer Phillip Murgor, she said that the governor is demanding all the money he has ever given to her.
"…Mutua angrily termed me as his Enemy No 1. and threatened to "crush me to ash", as he takes away everything I have and own. Indeed, this has already started as he has demanded that I refund any money he has ever given to me or made available for my use," she said.
In addition, Nganga disclosed that the Machakos County boss has already started re-possessing her assests.
She stated that on September 8, 2021 Mutua accompanied by his police bodyguard stormed her apartment in Kileleshwa, and took away her personal car and transferred its ownership to another person.
Governor Alfred Mutua and Lillian Nganga Pulse Live Kenya
"Without my knowledge or consent and using a spare key which he had illegally obtained, he drove away my personal motor vehicle KBY 186G - a car which had been fully registered in my name since 2014. Mr. Mutua proceeded to fraudulently transfer the ownership of the car in the log book into his name, and thereafter sold the vehicle to a 3rd party.
"I filed a case which is pending in court so I will not comment further on it except to ask the purchaser to be on notice that I maintain my claim to ownership," Lillian said.
Lilian further accuses Mutua of fraudulently taking away her shares in properties that they jointly owned when they were together.
"Along the same fraudulent conduct. Mr. Mutua recently and illegally transferred my shares in the Ndash Enterpnses LTD (the hotel company) to his sister Ann Mbandi Mutua. Again, a dear act of fraud. At no point did I execute a transfer of my shares or otherwise transfer my 1600 shares (45%) shareholding in the company to him, let alone his sister," she states.
"I am publicly requesting Mr. Mutua to immediately return my property, cease threatening my life and those around me and stop his arrogance, wanton abuse of power, manipulation and bullying. He needs to get a life and move on,"
The former Machakos First Lady says they held a meeting with the Governor in September to settle the bad blood that has rocked their separation, but things turned worse with Mutua allegedly declaring her his "enemy number one".
Recommended articles
Kenyans concerned as man who travelled 500km to surprise girlfriend becomes unresponsive
Kamene Goro reveals truth about why she left Kiss FM
Andrew Kibe rants after being hit by online scammers
Jalango's legacy immortalised in new book [Details]
Teary Kamene Goro bows out of Kiss FM after 3 years [Video]
Amber Rose wants to stay single forever...says men are disgusting
Larry Madowo lands leadership role in Africa-wide organisation
Harmonize dishes out cash to fans in Kigali [Video]
Kelvin Kinuthia reveals contents of private chats with Jimal Roho Safi