Comedian Crazy Kennar launches his own Restaurant (Photos)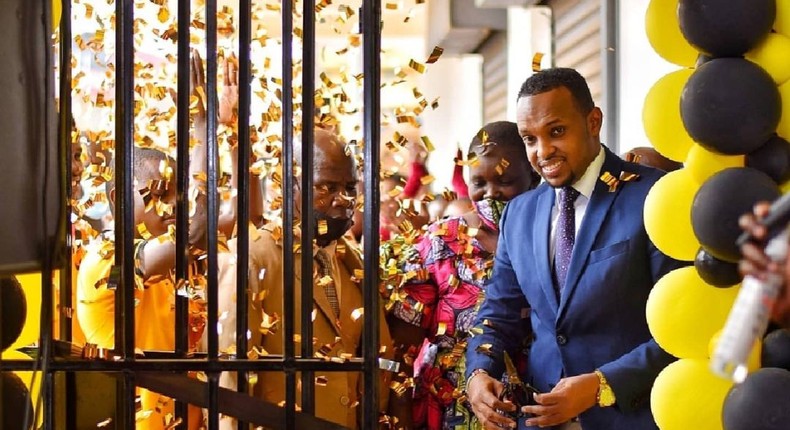 Comedian Crazy Kennar of the famous Tales of Crazy Kennar has launched his own Restaurant called Instant Delicacies.
The new Restaurant that was officially launched on May 25th, 2021 is located at the Juja Square.
Its launch was graced by a few close friends and celebrities and among them; Actress Jackie Vike aka Awinja, Alinur Mohanmed, Alex Mathenge, Kibunja, Cartoon Comedian, Flaqo Raz and the whole crew of "Tales of Crazy Kenner".
A happy Kennar took to social media to announce that his Restaurant was now open to the public, thanking all who showed up for the launch.
Photos from the launch of Comedian Crazy Kenner's Restaurant
"And that is how @instant_delicacies OFFICIAL launch went down you're all welcomed. Wacha sasa nirudi niwachekeshe kidogo😂😂😂"
Aspiring politician Alinur Mohamed who was part of the launch also took to social media to congratulate Kenner for the bold step towards investment.
"Comedian @crazy_kennar has opened his own Hotel @instant_delicacies and I had the honour of opening it officially today. I feel so good when young people start investing the small money they get in businesses of their dreams. I will always support such young and brave people to realize their dreams" said Alinur.
Photos from the launch of Comedian Crazy Kenner's Restaurant Pulse Live Kenya
Actress Jackie Vike aka Awinja also jot down a congratulatory message that says;
Photos from the launch of Comedian Crazy Kenner's Restaurant Pulse Live Kenya
Photos from the launch of Comedian Crazy Kenner's Restaurant Pulse Live Kenya
Photos from the launch of Comedian Crazy Kenner's Restaurant Pulse Live Kenya
Photos from the launch of Comedian Crazy Kenner's Restaurant Pulse Live Kenya
Photos from the launch of Comedian Crazy Kenner's Restaurant Pulse Live Kenya
Photos from the launch of Comedian Crazy Kenner's Restaurant Pulse Live Kenya
Photos from the launch of Comedian Crazy Kenner's Restaurant Pulse Live Kenya
Photos from the launch of Comedian Crazy Kenner's Restaurant Pulse Live Kenya
Photos from the launch of Comedian Crazy Kenner's Restaurant Pulse Live Kenya
Photos from the launch of Comedian Crazy Kenner's Restaurant Pulse Live Kenya
Photos from the launch of Comedian Crazy Kenner's Restaurant Pulse Live Kenya
Photos from the launch of Comedian Crazy Kenner's Restaurant Pulse Live Kenya
Photos from the launch of Comedian Crazy Kenner's Restaurant Pulse Live Kenya
Photos from the launch of Comedian Crazy Kenner's Restaurant Pulse Live Kenya
Photos from the launch of Comedian Crazy Kenner's Restaurant Pulse Live Kenya
Photos from the launch of Comedian Crazy Kenner's Restaurant Pulse Live Kenya
Photos from the launch of Comedian Crazy Kenner's Restaurant Pulse Live Kenya
Photos from the launch of Comedian Crazy Kenner's Restaurant Pulse Live Kenya
Recommended articles
Spotify releases most streamed Kenyan artistes & songs of 2022
Tems addresses trolls criticising her Dazed magazine's photoshoot
Actor Sandra Dacha commemorates parents' demise in a sombre message
Nigeria dominates Apple Music 2022 Top 100 Sub-Saharan songs
Diana & Bahati blasted for sidelining Mueni in birthday celebrations
Sh25M monthly payments & other details of Kanye and Kim's divorce settlement
Bahati pens heartfelt message to daughter Mueni as she turns 7
Kambua reveals face of her newborn, confirms she gave birth months ago
Why Karen residents want Betty Kyallo's restaurant shut down