Obinna speaks out after 3rd serious assault on 2mbili by baby mama
In a video shared by Obinna, 2mbili's face was blood-stained and said this was the third time he was being assaulted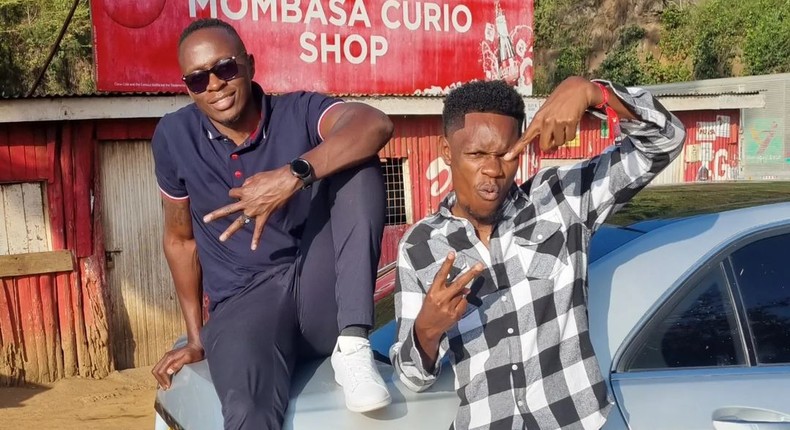 Comedian 2mbili is nursing serious injuries following an alleged physical assault by his baby mama.
According to a video shared by Comedian Oga Obinna, 2mbili is seen seriously bleeding as he explains that it was the third time the incident was happening.
"The number of physical abuses on 2mbili have been going up for a while now, 2mbili kids sometimes come here and my son told me his kids told him that their mother almost stabbed their father and even hit him with a glass," Obinna narrated.
Obinna revealed that the abuse is sometimes turned on 2mbili's kids with the aim of hurting him adding that reports to authorities have bore no fruits.
"I've decided to speak before it's too late also maybe one day he may have the courage to talk about it but for now just know that boychild needs all the help and love he can get to stay strong for the kids.
"Nobody is there for boychild!! We have gone even to the police station plus GBV offices and NOTHING WAS DONE," Obinna said.
Reacting to the story, comedian YY said 2mbili once covered up being burnt by hot water by lying that he had been attacked by goons. YY said it was important for men to know when to leave toxic relationships.
Comedian 2mbili Pulse Live Kenya
"I feel sorry for him….tumbili even covered up story ya maji moto akasema ni maboy walimvamia akishoot… maze am glad you can finally talk about it tumbili… not all the times should people stay for the children, sometimes you leave for the sake of the children," YY said.
2mbili is yet to publicly speak about the incidents.
Editor's Note: Intimate partner violence can be reported through Kenya's 24-hour national helpline for gender-based violence 1195.
Recommended articles
Daddy Owen drops 1st music video after 1-year hiatus [Watch]
Amber Ray excites fans with video of growing baby bump
Shaffie Weru makes media come back with new show [Video]
Actress Jacky Vike lands brand ambassadorial job
Kevin Mboya reveals details of Kwale trip that left him heartbroken
Photo of Wema Sepetu & bae Whozu sparks debates after fans noticed slight bulge
Emma Jalamo drops collabo with Nicah the Queen after week-long stunts [Watch]
NTV's Zainab Ismail pays touching tribute to late father on 1st anniversary
Not my husband - Chiki Kuruka shoves lady grinding on Bien [Video]