Video emerges of ex-KTN actor brutally assaulted over alleged theft
Baken starred in the KTN drama series 'Junior'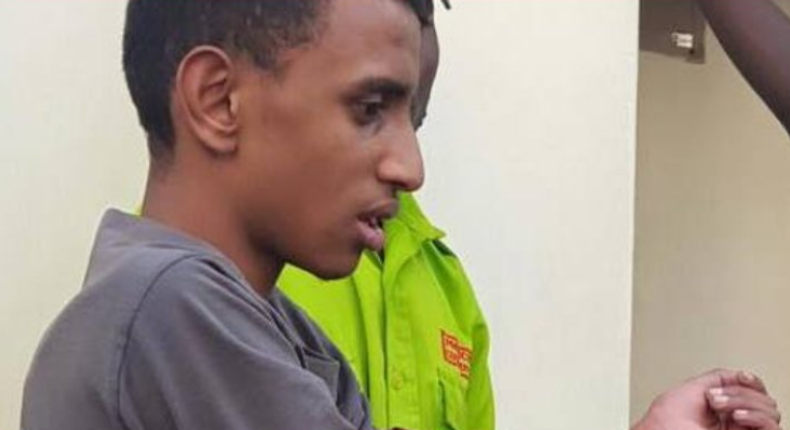 Videos have emerged of former KTN drama series 'Junior' actor Baken being physically assaulted after he was accused of theft.
A bleeding Baken was being questioned by unidentified people on what he had made away with a motorbike, money and mobile phones.
The helpless actor in the video admitted to having stolen the items as he begged for water to relieve gather strength to give them more details.
"What is your name, where are you from," one of the men in the video posed.
"My name is Baken, I come from South B, I stole a motorbike, two phones and money," Baken responded.
Baken of KTN caught after stealing
The video attracted remorseful reactions from netizens who said the young man was a talent that had gone to waste.
Others that came across the video called for the establishment of forums and mentors who would guide such rising stars.
Below are some of the comments shared by those that came across the video.
Peterondiba He really needs help so sad to watch and it must be even harder for his loved ones Mungu amusaidie such a talent
𝐓𝐢 𝐌𝐚𝐮 the only thing naeza question is his upbringing. Na kama alwaga analishwa viboko juu ya ustardom
Ñåkürü G Just curious why are Kenyan actors suffering out here don't they get paid Ati this is Baken caught stealing enyewe life si ya mama yako
Metroboomin By now i was thinking this guy 'Baken' was loving posh life kumbe its vice versa,hapa in embakasi he was also caught stealing ,Entertainment industry imemuachilia buana,he was/is talented
JUMA Ndio msee kama baken aanze wizi things must be tough. It's time for actors and creatives in Kenya to build a solution. Baken was such a great talent we lost that talent even before it reached its prime
Recommended articles
Useful Idioty's promise to anyone that returns his stolen iPhone
Why Abel Mutua and Judy Nyawira may be forced to redo their wedding
Veteran Radio Maisha presenter signs off in emotional farewell after 13 years
Cebbie Koks' advice to single ladies in search of husbands
Grieving Stevo Simple Boy honors late dad in birthday message as he turns 33
4 things Oga Obinna wants done in GBV against men petition
Why Kamene Goro has left Radio Africa, Mr Seed's baby mama & more stories on #PulseUhondoMtaani
Kenyans concerned as man who travelled 500km to surprise girlfriend becomes unresponsive
Kamene Goro reveals truth about why she left Kiss FM