He used to beat me up like nonsense - Shaniqwa's baby mama opens up
My mother requested me to say this, Kevo hata hajawai enda kwetu, he doesn't even know my parents - Jemutai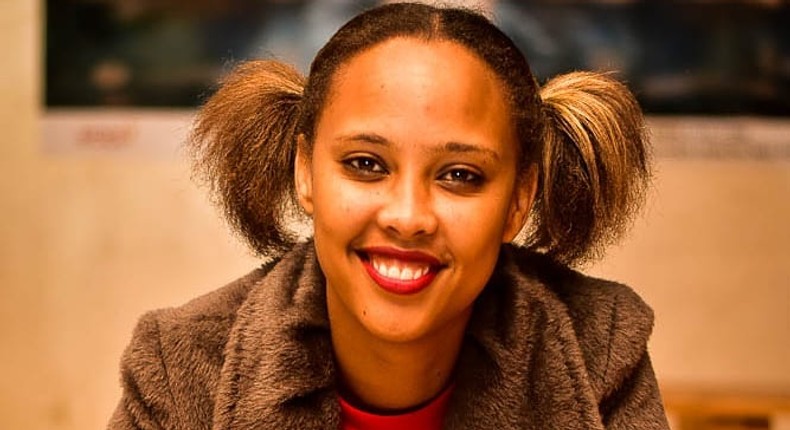 In an interview with Citizen Digital, Jemutai flipped the script on Shaniqwa alleging that he is the one who used to cheat on her and even beat her up. She also made it clear that their relationship ended about a year ago but they were never legally married.
"I found him several times cheating even before he lost his Job at KTN and each and every time I would confront him, he used to beat me up like nonsense but I never said anything to the public. My friend knows, used to go to work with a black eye, I had wounds.
"It reached a point I said enough is enou8gh and that why I decided to walk away with my kid," she said.
Naomi Jemutai, aka Mkale Msungu
Jemutai also cleared the air on allegations that she moved in with another man in Ruiru, stating that she went to stay with a female friend, who hosted her for seven months before she got back on her feet.
"I went to Ruiru…It wasn't another man, two of my friends called Tina, she took me and my son. We used to sleep on the floor on a small mattress. I stayed there for 7 months before I got a good job. Venye anasema nilienda Ruiri kwa Manaume that not true, Tina is not a man," Jemutai explained.
Mkale Mzungu went on to explain that her mother was surprised to learn that Shaniqwa was referring to her (Jemutai) as his wife yet he has never visited their home to introduce himself.
Naomi Jemutai, aka Mkale Msungu Pulse Live Kenya
"My mother requested me to say this, Kevo hajawai enda kwetu, he doesn't know my parents, he doesn't no our place, so Mum told me nyinyi mlikuwa tu kama boyfriend and girlfriend coz you were not married. So anaskia vibaya sana hadi naitwa wife yet he has not paid even dowry kwetu," she said.
She added she walked away due to the domestic violence that had rocked their relationship.
"What got me to the end was the several domestic violence abuse. I remember there is a time after I was just from the Hospital for the CS, a week he beat me up n ahata sikuwa nimepona. Mist it was me finding out he was cheating," she noted.
Jemutai said that currently, Shaniqwa has blocked and she can only reach him via his Instagram page.
Naomi Jemutai, aka Mkale Msungu Pulse Live Kenya
"I send him money, I go to see my son on Wednesdays and I only talk to him on IG because he blocked me everywhere.
"I started appearing music video and hosting at the tunnel (club) to sustain myself… I don't know why he doesn't want me to have my son back yet for the two years he was not supporting mu son I never said anything ill about him,"
He further claimed that after helping her secure a job, she started cheating on him and went to live in Ruiru with another man.
"But, when her job started picking, life became even worse. My wife started cheating on me. She started dating another guy and would leave me with the baby."
Pulse Live Kenya
Just as Kelvin was rebuilding his life, his baby mama who had left him for another man called him saying that she had been kicked out of the house she was living in.
She asked him to take care of the child as she fends for herself but 'Shaniqwa' felt sorry for her and took her back to his house.
The reunion did not last and two days later, they had already started quarrelling after going through his phone. The following day she left with the baby.
Recommended articles
Hamisa Mobetto counters critics questioning her son's fathership
Lupita pays tribute to late Chawick Boseman in sweet message
Nikita Kering' elated after performing at BBC 1Xtra Afrobeats concerto
Spotify releases most streamed Kenyan artistes & songs of 2022
Tems addresses trolls criticising her Dazed magazine's photoshoot
Actor Sandra Dacha commemorates parents' demise in a sombre message
Nigeria dominates Apple Music 2022 Top 100 Sub-Saharan songs
Diana & Bahati blasted for sidelining Mueni in birthday celebrations
Sh25M monthly payments, other details of Kanye and Kim's divorce settlement