I lied about being married- Model Ella confirms Breakup with Joe Jowie Irungu
I too lied that he is the father to my daughter- Ella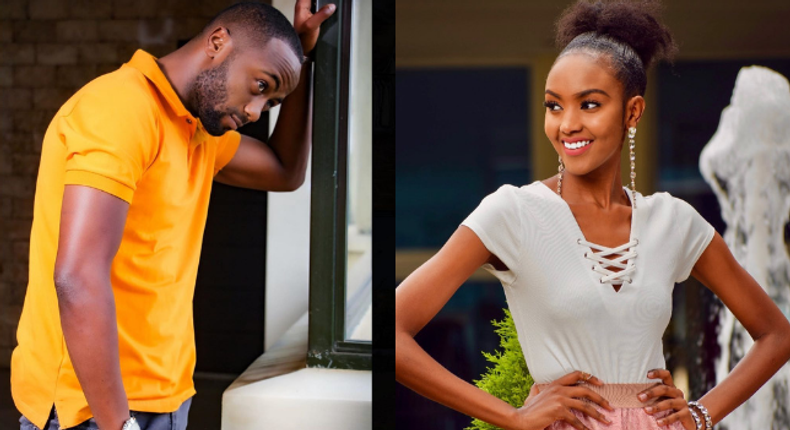 In a confession made to Blogger Edgar Obare, Ms Ella disclosed that their relationship ended amicably last year. In her explanation, the model said that she doesn't want to be tied to Jowie's story anymore and that's why she has decided to make their breakup public.
"We ended our relationship both professionally and personally…we are no longer together. I believe God brought me to his life for purpose and I did my task. Jowie has changed a lot for better and I no longer want to be tied to his life story.
I have my dreams I want to pursue as a mom professional model and various other things in life that come my way" said Ella in part.
She went on to admit that she lied about being married to Joe Irungu, with the aim of protecting him after he was released from prison.
"I lied about being married to protect Jowie for legal reasons because as of his court release he was allowed to stay within his location which is his parents' home in Nakuru. If you can recall the court had refused to give him bail stating he had no permanent place of residence. So when I took him to my house". added Ella.
Ella added that; "I lied too that he is the father to my daughter which he is not, for his own safety, in case he's seen in public with my child. I truly helped Jowie with a clean heart out of compassion for the broken stare found him in, I wanted to cheer him that there's more to life over his mistakes as well".
Joe Jowie and Eleanor Musangi Ndambo Pulse Live Kenya
The mother of one went on to state that "…Jowie has never corrupted or taken advantage of me whatsoever that am aware of and I freely let him live life like a free man. I believe he is in a better place now and I don't want my life to keep getting tied to him over my past or people having it look like he owes me anything. We parted ways in December last year".
Jowie and Ella came out as lovers back in August during an interview on Bonga na Jalas. Across check on their social media pages, indicates that they have already deleted all the photos they ever took together.
Ella's confession on breakup with Joe Jowie Pulse Live Kenya
Ella's confession on breakup with Joe Jowie Pulse Live Kenya
Ella's confession on breakup with Joe Jowie Pulse Live Kenya
Ella's confession on breakup with Joe Jowie Pulse Live Kenya
Ella's confession on breakup with Joe Jowie Pulse Live Kenya
Ella's confession on breakup with Joe Jowie Pulse Live Kenya
Ella's confession on breakup with Joe Jowie Pulse Live Kenya
Recommended articles
Obinna threatens to leave after clashing with Kwambox on air
WATCH: Governor Sakaja's funny response to viral sensation Priscilla Wa Imani
Fans amazed after Amber Ray's fiancé spent bundle of cash on her nails [Video]
Akothee rescues bright girl who tried to end her life for lack of Form 1 fees
Arrow Bwoy celebrating 10 million milestone
I've had enough! - Willy Paul responds to claims that he has neglected his mother
Njugush explains why he deleted video after KOT uproar
Esther Musila lists 3 precious things she can't live without
Mejja narrates painful journey with throat condition affecting his voice