I'm single- declares Rick Ross' rumored girlfriend after his public affection for Hamisa Mobetto
Will Ross-Betto be a thing?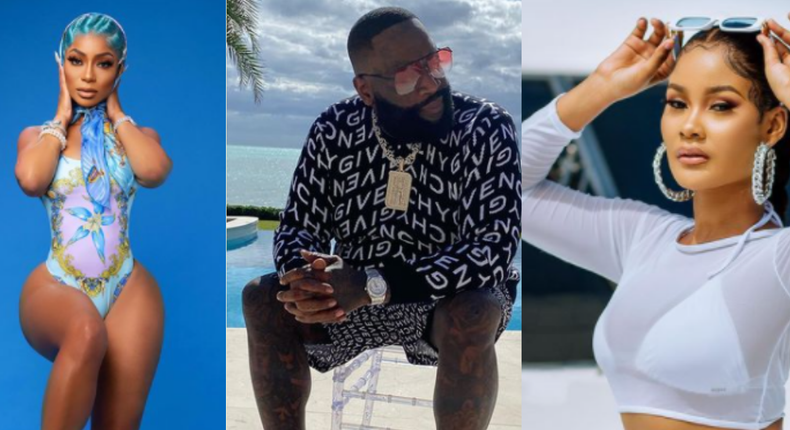 In the past few weeks, Ross has been gushing over Ms Mobetto's beauty in almost every photo she uploads, an act that has left many with questions.
Many have speculated that Ross has been trying to get Hamisa's attention for them to start dating.
Now, we know that Rick Ross goes through girlfriends in a way that can be hard to keep up.
Tommie Lee is an urban model and rapper and has been in the famous reality show, Love and Hip-Hop Atlanta.
She has been rumored to be currently dating Rick Ross, especially after being spotted with the rapper about 5 days ago in Miami at a club.
However, Tommie has shut the rumors down, as captured by the 'TMZ of Instagram', The Shade Room.
Tommie says that they are just 'dawgs and business partners'.
"Diamond aliniambia dini yake inaruhusu kuoa wake wane so I was willing to share him with Zari," said Hamisa who was in Kenya for a media tour to promote her new song.
According to Hamisa, people have been hating on her, just because she sired kids with two prominent and rich men in Tanzania.
For the record, Hamisa's first born daughter Fancy was sired by Businessman Majizzo who owns a radio and a TV station, while her second born son belongs to Diamond, the owner of Wasafi label and TV.
Pulse Live Kenya
Still in 2018, Hamisa had hinted on her desire to migrate from Tanzania and settle in another country.
Through her Instagram, Ms Mobetto disclosed that on many occasions she has made a decision of going out of Tanzania but the love from her fans always makes her change her mind.
"Sometimes .... Natamani Kuondoka Tanzania nafika hadi airport ila najiuliza Watanzania Wenzangu Wataishije Bila Mimi" shared Ms Mobetto
Rick Ross and Hamisa Mobetto. Rapper Rick Ross raises eyebrows with Comments on Hamisa Mobetto's Photos (Screenshots) Pulse Live Kenya
Rick Ross and Hamisa Mobetto. Rapper Rick Ross raises eyebrows with Comments on Hamisa Mobetto's Photos (Screenshots) Pulse Live Kenya
Rick Ross and Hamisa Mobetto. Rapper Rick Ross raises eyebrows with Comments on Hamisa Mobetto's Photos (Screenshots) Pulse Live Kenya
Rick Ross and Hamisa Mobetto. Rapper Rick Ross raises eyebrows with Comments on Hamisa Mobetto's Photos (Screenshots) Pulse Live Kenya
Recommended articles
If there's a video of us saying she's single, please share - Terence Creative
What sparked Eve Mungai's fiery reaction after Commentator 254's baby news
Wakadinali's Domani Munga takes a break due to health issues
Amapiano is just a rebranded version of Ghana's Azonto – Samini
New animated film JESUS (2025) set to break ground in more than 2000 languages
Christina Shusho's Biography: Early life, start of music career, husband & 3 kids
'Twa Twa' Pastor explains reasons parents should not kiss their children
WaJesus family commemorates 6th anniversary with exclusive love series
Mbogi Genje's Smady Tings finally reacts to Jacky Vike's open crush on him