Karen Nyamu finally confirms Samidoh as the father of her son (Video)
Mimi ndio sijui kucheat? -Karen Nyamu on allegations that Samidoh will also cheat on her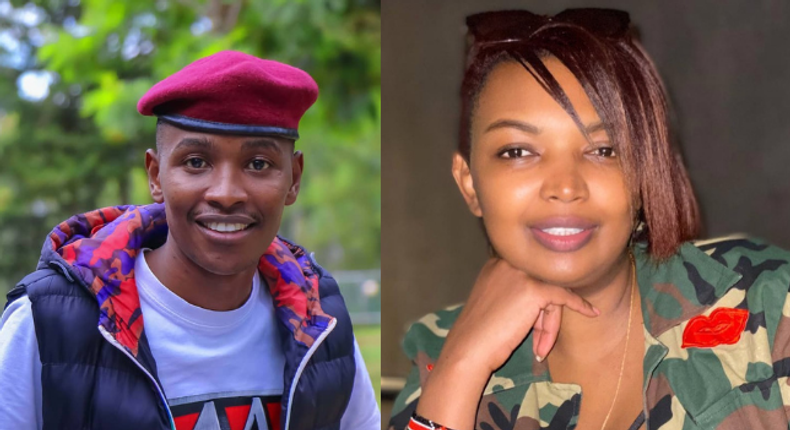 On Saturday, Ms Nyamu shared a short video of Samidoh bonding with his son saying; "A dad doesn't tell you that he loves you, he shows you #muchokis".
Following the confirmation, fans joined the conversation warning that Samidoh will still cheat on her, basing on the fact that he is already married.
hadassahnjagzz "So what!! Cio wewe wamwisho,,, the truth is you'll remain a mistress woman! Don't think he will leave his wife and marry yu 🤣🤣🤣n bytheway,,, take care of your child:"
She replied "@hadassahnjagzz listen I'm not a petty woman like you to be happy with a man who can leave his wife. That's a boy. does it pain you so much that he is taking care of his son? Kama chungu tema🤣"
jane.james114 "Your dating a married man and think he would never cheat on you"
Nyamu replied "@jane.james114 hehehe hio nayo imetoka wapi. Mimi ndio sijui kucheat?"
Just the other day, Nyamu, who unsuccessfully vied for the Nairobi Woman Representative in 2017, asked netizens to refrain from branding her as a homewrecker over her relationship with married-Samidoh.
"I saw Samidoh with his wife on Valentines where were you and how is she saying?" asked a curious fan.
The mother of two replied; "Hehe I was home with the babies and no nanny. Muwachange kuniita homewrecker, she is not complaining."
Karen Nyamu and Samidoh Pulse Live Kenya
During the Q&A session, Ms Nyamu went on to share tips on dating married men, with caution that anyone willing to walk that path shouldn't compete with the wife of man in question.
"Give me tips for dating married man?" posed the fan.
She replied; "Do not date a married man period. But if you must don't date a man who disrespects or neglects his wife. Also know you place. Never compete, if you want compete please wachana na bwana ya wenyewe."
Get our Top Stories delivered to your inbox
Recommended articles
Youthful MP Peter Salasya searching for a wife with these qualities
Ed Sheeran may have to pay $100m, if found guilty of plagiarising a song
Size 8 casts out demons from possessed girl in Kibwezi [Video]
Bahati is battling depression, Diana has called me twice-Ringtone
Jamal Rohosafi throws shade at ex-wife Amira with cryptic message
My twin - Diamond gushes over look-alike son[Photo]
Crossing boundaries! Diamond working on a song with Indian star [Details]
Nick Cannon welcomes his 10th child, weeks before his 11th is due
Abel Mutua 'fried' as Roast House closes curtains for Season 1