Khaligraph Jones releases Khali Cartel 4 & Netizens can't keep calm [Video]
Khali Cartel 4 is already trending on Twitter and YouTube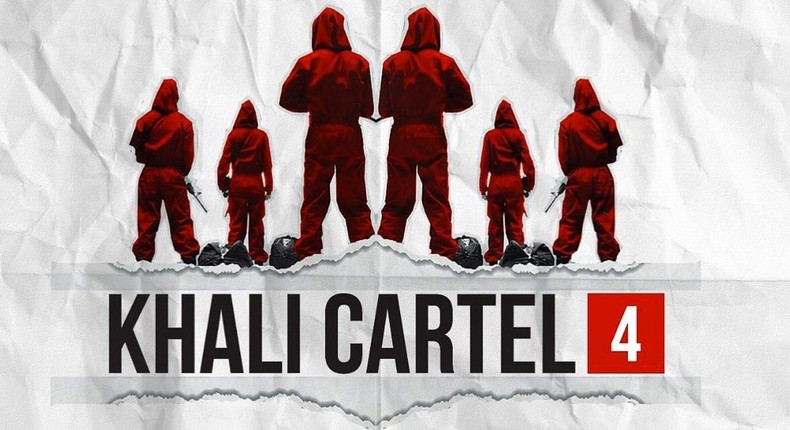 The long-awaited rap cypher of the year, Khali Cartel 4 is finally here and netizens can't keep calm.
On Monday, Papa Jones took to social media to announce the official release of Khali Cartel 4, a project he has featured top 6 finalists of the Odinare Challenge. The top 6 finalists on the rap cypher are; Katapilla, Shekina Karen, Murasta, Achicho, Elisha Elai and Ben-c.
The new tune has been released exactly two years after the unveiling of Khali Cartel 3 that featured; Bey T, Breeder Lw, Silverstone Barz, Rekles and Chiwawa.
The Khali Cartel 4 Instrumental was created by Aress 66, Vinc on The beat and Papa Jones himself and its visuals were arranged by Omoke.
"After 2 Years, I present to you KHALI CARTEL 4, MOVIE TIME... Favourite one So far 🔥🔥🔥🔥🔥🔥🔥," shared Khaligraph Jones.
Minutes after being released Khali Cartel 4 took over Twitter and YouTube trends and so far it has garnered over 161K views in just 11 hours.
The cypher which features Khaligraph and the top six finalists of the Odinare rap Challenge was a project that saw Blue Inc. studios partner with betting firm Odibets under their Odimtaani initiative.
Speaking to journalists after the release of the cypher, Khaligraph said that Khali Cartel 4 was a one-of-a-kind music project to celebrate his fans for the support.
"I decided to release Khali Cartel 4 this year in a bid to give back to my fans who have been with me through thick and thin, after bringing the Odinare challenge to the rap scene courtesy of Odibets. I released Khali Cartel 4 with the six rap challenge finalists who had proved beyond all reasonable doubt that they were the next stars in the hip hop scene," said the award-winning rapper.
The Khali cartel 4 cypher video which has been termed by rap fanatics as a "movie" was shot on a bank robbery set up that sees Khaligraph question the various rappers on different issues as they rhyme to the beat of the cypher.
Few months back, Rapper Khaligraph Jones unveiled the winner of the 'Odinare' Rap Challenge.
Kibera born-rapper Katapila won the Odinare Rap Challenge walking away with the grand prize of Sh1 million.
BenC and Real Elai, came in second and third walking away with Sh500,000 and Sh300,000 respectively.
Get our Top Stories delivered to your inbox
Recommended articles
Pray for Bahati-Ringtone tells fans as he opens on Bahati's 'new project'
Apple Music Top 100 most played songs in Kenya [Full List]
Nonini drops new Reggae single ahead of official release on his birthday [LISTEN]
Willy Paul, Jovial release much-anticipated collabo [Watch]
Pastor T reaches out to Akorino brothers' after an alleged twisted love affair
Apple Music releases top 100 songs in Kenya, only 2 Kenyan songs made list
Trevor Noah bows out of The Daily Show after 7 years
Gabiro Mtu Necessary officially named No.1 artist in Kisumu after cracking 2M streams
Queen of my heart- Waihiga Mwaura celebrates wife on birthday