Kwambox explains why she avoids dating artists after Nameless' viral dance
Nameless' viral video inspires Kwambox to set high dating standards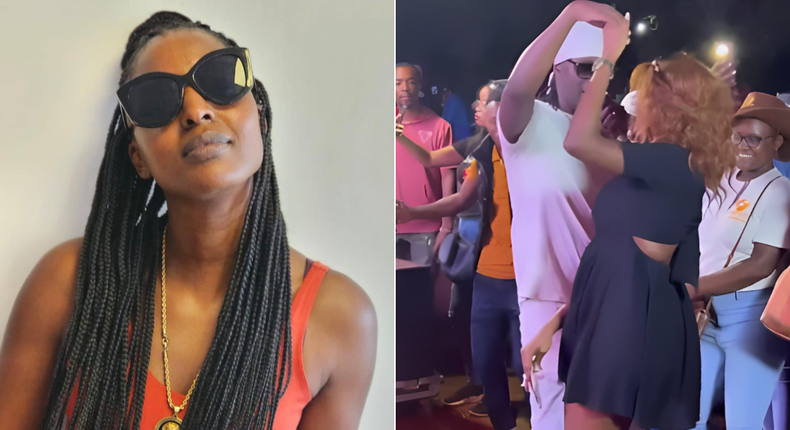 Her position became evident after she came across a trending video featuring Nameless at one of his past concerts.
"I saw him with fans and I was just like hmmm. To be honest, I was like this is why I don't date a musician or technically someone famous," Kwambox said.
The viral video showcased the musician engaging with his fans, dancing to the tune of 'Inspire,' and holding the waists of several female admirers.
Kwambox continued by mentioning how the fans at the concert were clearly enjoying themselves.
She went on to imagine the perspective of a girl present at the event and pondered how she might feel if Nameless didn't choose her to dance with.
In Kwambox's view, it seemed like everyone in the audience was eagerly awaiting their turn for a slow dance with Nameless. She firmly reiterated that she couldn't envision herself as the spouse of a musician.
"If I were the wife of a musician, like imagine Timmy T Dat's wife, si kila siku ni heartbreak tu," Kwambox said.
She concluded by noting that Nameless' video was circulating widely online, and she humorously remarked that those who hadn't seen it must not have any friends.
Social media reactions
_didiibeauty Kuolewa na msanii lazima ukae ngumu otherwise 😂😂😂😂
_its._omar_ Mngeongeza tu nameless dancing with a lady who isn't his wife 😂😂alafu msisahau kuandika CC apo chini mtag Wahu.
mc_machupa_ Huyo msee ako mboka at least kwake kitunguu itanuka.. We endelea kujudge.
gashiee_may Hata kama ni performance it's not a must you get so touchy touchy and close to the audience.
Nameless Pulse Live Kenya
em_vee_josh Nameless is an inspiration not just to Kenyan artist but also to couples out here.
barakjacuzzi He's at work!!!! Dancing on camera. He gonna go back home to Wahu. Yall chill lol.
tapk.oroze Na nameless ako na baby wengi kwa hio event na wote wanamuinspire lol😂
wan_o_brien Nameless means unknown identity,huyo sio yeye just incase you start critics.
Recommended articles
DP Gachagua graces Samidoh's big day at Parklands Sports Club [Photos]
Junior Nyong'o recalls sharing news of his 1st animation series role with Lupita
MCA Tricky shares his master's grades as he enters final year of study in engineering
John Allan Namu's brainchild marks 8 years, he reveals major lessons learnt
10 male singers who immensely benefitted from collaborating with Sheebah
Kate Actress outshines 9 top African thespians to be crowned Actress of the Year
Sonnie Badu criticises absentee fathers, says they are 'useless'
Wakadinali biggest winners as Spotify unveils most streamed artists in Kenya [List]
Proud mummy moment for Pierra Makena as daughter's talent secures her a movie deal