Phoina Tosha leaves fans guessing with growing 'baby bump' photo
Contrary to the typical surge of well-wishes that often follows pregnancy reveals, Phoina's recent 'baby bump' photo appears to have stirred more confusion than jubilation among her followers.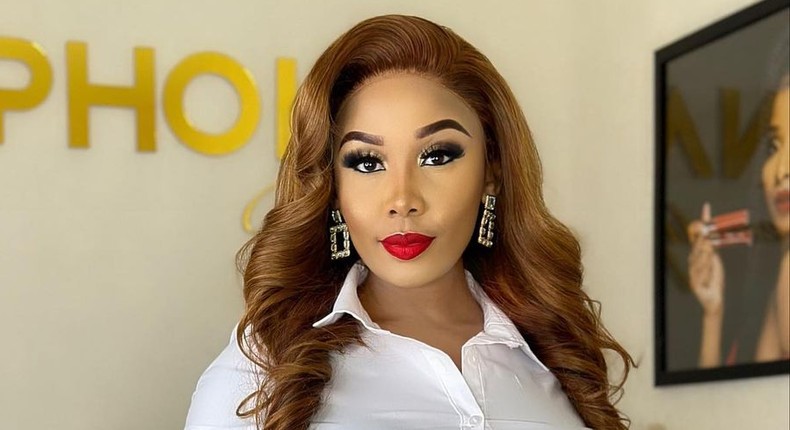 Kenyan makeup artist Phoina Tosha has left her social media followers puzzled with her latest post.
In a departure from the usual flood of congratulatory messages that accompany pregnancy announcements, Phoina's post seemed to elicit more confusion than celebration.
Phoina's intriguing post
Phoina took to her Instagram account on November 9, to share a photo that caught the attention of her social media family. The image depicted Phoina holding her belly, suggesting what many interpreted as a potential baby bump.
However, the ambiguity of the caption added an extra layer of mystery.
In the caption, Phoina wrote, "2023, Wuehh!" leaving readers to speculate about the significance of the statement. The nature of the post led to a range of reactions from her followers.
Phoina confuses fans with photo of growing 'baby bump'
Contrary to the customary flood of well-wishes that typically accompanies pregnancy announcements, Phoina's followers were unsure about how to respond.
Pulse Live Kenya
The mix of confusion, curiosity, and speculation has set social media abuzz with discussions about Phoina's revelation.
While some followers congratulated Phoina on the potential pregnancy, others questioned her intentions behind the cryptic post.
Actress and social media influencer Jackie Matubia was among the first to comment, seeking clarification on whether Phoina's post was genuine or a playful tease.
"Aaaiii babe Wacha kutupima," Jackie remarked.
Pulse Live Kenya
Phoina's private persona
Phoina Tosha is known for keeping her personal life, especially her romantic relationships, away from the public eye.
This discretion has only fueled the curiosity of her followers. In the past, she responded to a fan's query about revealing more about her personal life, particularly her significant other.
"Aki babes, si ata utuonyeshe kucha basi tunataka kuona our shemeji," the fan pleaded, asking for even a glimpse of her partner.
Pulse Live Kenya
Phoina responded with humor, stating, "Vile mumenipea watu wengi, na bado all your guesses are wrong."
By keeping her audience guessing and maintaining a level of secrecy, she has created an air of mystery around her personal life, sparking heightened interest and speculation.
Here are some reactions to the post
for16_Is this for real ama ni kushiba?
Recommended articles
Jada Pinkett Smith says she and Will Smith are 'staying together forever' despite separation
DJ Kalonje talks about his side hustles after 12 years in the industry
Karen Nyamu declares war on 'Aluta Sunday' entertainment joints
Kenzo steps ahead of Cindy as he talks copyright with Museveni
Busta Rhymes describes working with Burna Boy as an incredible experience
Pastor Ng'ang'a surprises hawkers with Sh410K cash donation and business tips
Laika says Harmonize slid into her DMs; paid for Zanzibar, Dar trips
MPs shower TV47 presenter Lizah Mutuku with cash at graduation after-party [Video]
Ruth K recounts Mulamwah's reaction to news of unplanned pregnancy