Sheila Mwanyingha talks about marriage & qualities of her ideal man
Wacheni kuharakisha watu- Sheila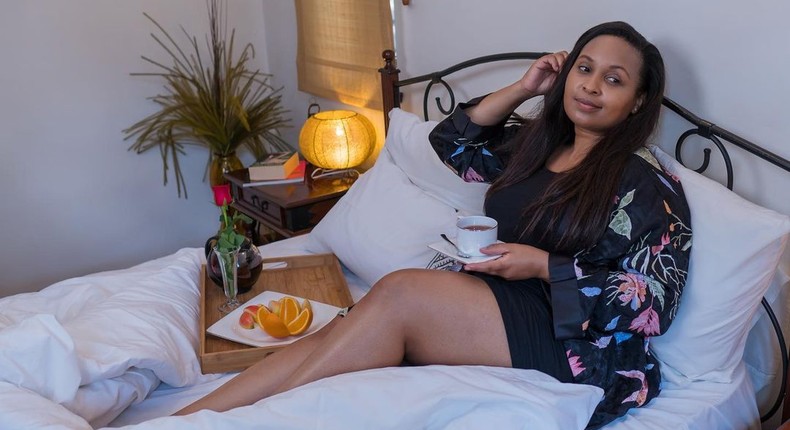 Appearing on Churchill show "the Journey Edition", Ms Mwanyigha made it clear that she has never been in a hurry to get married, giving an example of US Vice President Elect Kamala Harris who got married at 50.
There is a story I need to hear, Coz everybody Unauliza Sheila unangoja nini, Harusi ni lini? asked Mwalimu Churchill.
Media Personality Sheila Mwanyigha and Mwalimu Churchill
Sheila replied "…I hope so. Kamala Harris, at 50 years is when things started happening, mnaniharakisha kwa nini… wacheni kuharakisha watu, naweza kukuwa vice President alafu mnataka kunifanya niendee Diaper.
Marriage is a partnership…you find someone who you walk through life with not just anyone".
She further stated that nowadays its even harder to get someone to settle down with "…especially when you are in a position where people know you, they see you and they assume they know you, they assume this is the person that you are and really you are just a simple person, so inakuwa complicated".
Media Personality Sheila Mwanyigha and Mwalimu Churchill Pulse Live Kenya
The former Nation FM presenter narrated that there is a time she hooked up with man who asked her to resign from her job for them start dating.
"Kulikuwa na time nilikutana na a very nice man, I thought he was very nice. We went out for a meal (during the TPF days) …the waiters are happy, they wave and you wave back. Wacha tumalize dinner, akaniambia for us to date not get married, utaenda uwache hiyo job yako…nikamwambia you know what soma Label".
During the interview Sheila listed qualities of her Mr. Right, which are;
Someone who likes to walk and run in the forest
Someone who cherishes family
Someone who is not threatened… Nikiingia Mahali na watu wananisalimia by name na wanasema ile ya kawaida,usianze kuniangalia zile za sasa ya kawaida ndio nini" said Sheila.
Media Personality Sheila Mwanyigha and Mwalimu Churchill Pulse Live Kenya
She went on to say that her mother understands that motherhood is choice and by that virtue she has never pressured her to bringing a man home.
"…For her she understood that motherhood is choice and she said you are now part of a generation where you can live your life, do the thing you want, sidhani nitakupatia pressure ya bringing me a husband. You live, do the things that make sense to you" she said.
However, in a past interview, the former Tusker Project Fame host revealed that she had turned down three marriage proposals.
"The first, I didn't think he was the right person for me. The 2nd time my dad died and I wasn't ready to leave Kenya and relocate to Europe. It was 6 months before the wedding. The 3rd time I said no. You don't marry a person you can live with, marry someone you can't live without. I never want to settle. If you don't love someone as much as they love you, you can't marry that one person. You should marry someone you can't live without," disclosed Sheila Mwanyigha in an interview with Milele FM.
Recommended articles
Don't miss the highlights as 2Baba, Terry G, Skales, Goya Menor, August Chuks take the stage at Idoma International Carnival 2023
Nyako lights up social media as lecture to viral nanny Rosie backfires
Diamond & I started the process of acquiring Kenyan citizenship - Rayvanny reveals
Viral Kenyan nanny Rosie opens a new chapter in life with new venture
'Kaveve Kazoze' hitmaker Ngesh & crew give update on promises, cry for help
5 blockbuster films that prove Abel Mutua is Kenya's cinematic king
Cebbie Koks breaks silence with bold message to Akothee on her graduation day
Akothee breaks down as she talks about sibling betrayal [Video]
Women have turned me into a dating guinea pig – Saha discusses painful dating history