Musician Kyamo & Wife announce pregnancy for Baby number 2 in unique way (Video)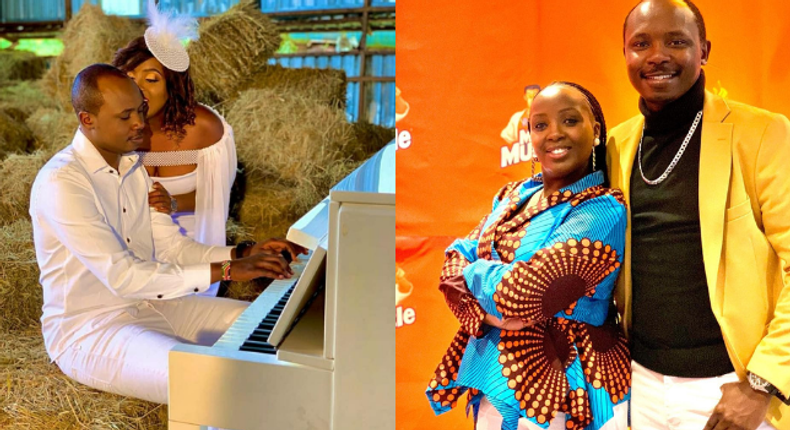 Award-winning Gospel singer Kymo and his YouTuber Wife Raych Gitau are expecting a new born baby into their family.
The two made the news public on Friday through a 4-minute video dubbed #SoInLove dedicated to their unborn baby.
In the song, the couple sing praises of how God has been good to them to an extend of blessing them with another child.
"Apa ni pale watu husugua mimba waki sema coooongrats....lakini akuna mtu hukuja kucheck "UZITO" ya mzee amwambie congrats🤫🤫😂😂😂😂😂 @raychgitau" shared Kyamo.
In a separate post, Raych wrote;
"God has trusted me with another little human 🥰. When i thought he had done too much, Jesus did it again 🥰🥰🥰.#amsoinLove"
"When i think about God's goodness and his faithfullness to me.Let me let ya'll admire the photos from @hami_n_markson_studios alafu i will do a youtube video to explain a few things 🥰🥰🥰"
Kymo and wife Raych Pulse Live Kenya
Kymo and Raych's announcement of Baby number two attracted lots of congratulatory message from their Insta-family.
Milly WaJesus "Wuuuui @raychgitau penzi lani washa washa. Such a lovely way to announce your pregnancy 😍 am so in Love with the song and everything in it but most excited about the journey you are taking. May God give you grace in the journey 🥰🥰🥰. Congratulations once more @kymo.music and Pika na Raych on your pregnancy watch video on YouTube "PIKA NA RAYCH"
jennifer_jennitz "❤️❤️So lovely. God keep you both safe. Congratulations Raych🔥🔥"
Kabi WaJesus "Weeeh that is the best pregnancy announcement ever check it out on Pika na Raych YouTube channel. Congratulations to you @raychgitau and @kymo.music"
Recommended articles
Teary Kamene Goro bows out of Kiss FM after 3 years [Video]
Amber Rose wants to stay single forever...says men are disgusting
Larry Madowo lands leadership role in Africa-wide organisation
Harmonize dishes out free cash to fans in Kigali [Video]
Kelvin Kinuthia reveals contents of private chats with Jimal Roho Safi
Nonini gives update on case against influencer Brian Mutinda
10 songs that cemented Daddy Owen's legacy as a gospel superstar
Eve Mungai's promise to boyfriend Director Trevor on 5th anniversary
Harmonize makes unexpected statement about Diamond during Rwanda visit