Uhuru's Niece Nana Gecaga's message as she marks 22 years of being sober
I started drinking to forget and feel numb- Nana said in a previous interview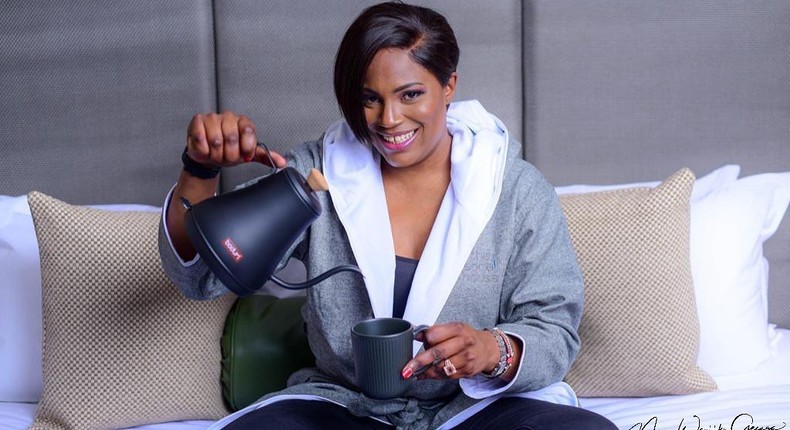 In a social media post, Ms Gecaga put out an appreciation message to allow who have been instrumental in her sobriety journey, stating that she is committed to the course.
"22 YEARS TODAY OF BEING SOBER.... I just want to thank everyone who has played a role in SUPPORTING me to get this far... lastly I want to thank ME, MYSELF AND I... I have to give credit where it is due... I've remained COMMITTED TO MY SOBRIETY, I've put it FIRST ALWAYS and been very PROUD of where I have come and where I'm going. It takes COURAGE to go against the grain and it takes HUMILITY to not only realise YOU have a PROBLEM BUT THEN COMMIT THE ENTIRE REST OF YOUR LIFE TO CHANGE IT FOR THE BETTER. #youareonlyasstrongasthepeoplearoundyou #surroundyourselfwithlikemindedpeople" shared Nana Gecaga.
In August 2020, Nana disclosed that she started taking alcohol to forget things she was going through and feel numb, but before she knew it, she was already addicted.
"I was checking into rehab at age 21 so when people are starting I'm checking out. So I started at a young age. And I think again it's more of you don't party out. I used alcohol to mask a lot of things. There are a lot of things I wasn't okay with, there are a lot of things that I had issues with like any other adult or young person growing up but when it hooks you, it hooks you," she said.
Pulse Live Kenya
"I started drinking to forget, I started drinking to feel numb and before you know it you are going from a functional alcoholic to not remembering what happened before and at age 21, you wouldn't want your child to go through that," added Nana Gecaga.
She went ahead to say that she is lucky to be walking and with no major injuries because during her addiction days, she always got into accidents.
"It wasn't easy, it took a lot. It took my brother and sister also intervening saying this is the last chance but let us get her some help. I had gotten into accidents, crashed cars during that stint and I'm lucky to be walking. Lucky to have no major damage. I really partied a lot and did not take life seriously," she narrated.
Ms Gecaga noted that it was while she was in rehab that she realized alcoholism is selfish and it had turned her into a selfish person, who put her family through some tough times, despite them not giving up on her.
Recommended articles
'Sound of Freedom': Jim Caviesel's new movie is inspired by real-life experiences of an activist
Story behind Dennis Ombachi's tag name 'Roaming Chef'
King Kalala opens up about marriage & dreams of having 7 kids
Nicki Bigfish saves the day for man he intended to prank
Please be thorough with investigation into Mohbad's death - Banky W
YY Comedian's mum shares untold story of how he suffered burns 7 times
Diamond pleads with Chege to release songs after unexpected reunion on stage
Mercy Masika expresses concern about modern pastors' fashion & modesty
Philosophy Fena Gitu applies in bold fashion choices