Vera Sidika ready to part with Sh1 Million in order to slay in the delivery room (Screenshots)
Nobody can convince me to have a normal delivery- Vera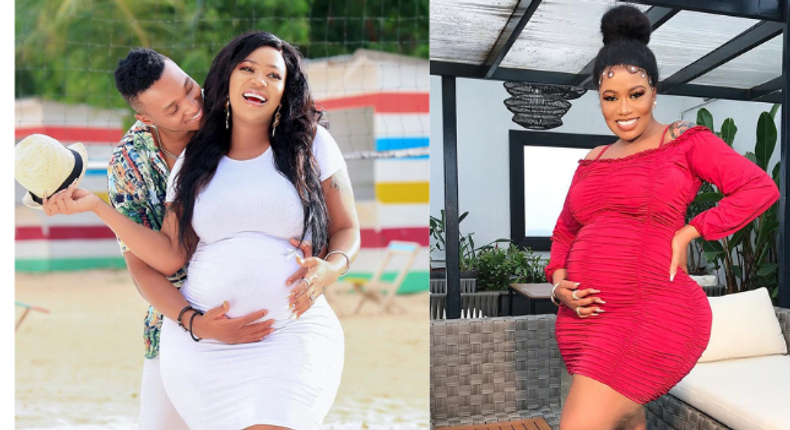 In a number of updates, Ms Sidika said that she is ready to foot the bills of a VIP delivery room at a private Hospital in Nairobi for her desired C-section delivery.
She pointed out that she has always wanted to deliver her child through C-Section because she doesn't want to experience labour pains.
"They say CS is expensive but if you really want it. you'd prepare better even if you don't have money. That's 9 months of saving. For private hospitals case is super different. Could part with a whooping ksh.1 million for CS delivery & the whole VIP treatment. But hey! we don't get pregnant everyday so why not" wrote Vera.
Vera Sidika and her husband Brown Mauzo
Vera added that she wants to slay when going to the delivery room; complete with her makeup and Wig on.
"Ever since I thought of having kids in my adult life, i said to myself i'll do it only if i don't have to experience labor. Lol so, I have forever been team CS. Elective CS (scheduled) i don't want to feel an inch of labor pain.
In fact, I even wanna slay; have my wig & make upon fleek during my delivery. I honestly can't deal with pain. yeah, y'all keep saying c.s takes longer to heal" said Vera.
Vera Sidika Pulse Live Kenya
Vera Sidika Pulse Live Kenya
Ms Sidika noted that he is afraid of normal delivery due to the pain that tags along the whole process.
"Vaginal delivery? nah not doing that to my vagina. Imagine a pain that was a curse from god. I can't even think of it. All I know is that if I go vaginal I'll probably not wanna have another baby. I've had friends trying to convince me to do vaginal. They failed. lol nobody can convince me otherwise. But the truth is, you can never know how your experience will be until that day comes".
Vera Sidika Pulse Live Kenya
Vera Sidika Pulse Live Kenya
She went to acknowledge that every delivery story is different.
"You will dance naked & run like a mad woman. lmaoooo hell nah not me
something new I heard :Your vagina tears up like whaaaaat! then ati they stitch your vagina afterwards ai. Apana. Wacha nibaki kwa CS tu. I'm okay. Ata kama it'll take forever to heal. Sina haraka. I'm willing to live with the scar. evidence of the purest form of love".
Recommended articles
Daddy Owen drops 1st music video after 1-year hiatus [Watch]
Amber Ray excites fans with video of growing baby bump
Shaffie Weru makes media come back with new show [Video]
Actress Jacky Vike lands brand ambassadorial job
Kevin Mboya reveals details of Kwale trip that left him heartbroken
Photo of Wema Sepetu & bae Whozu sparks debates after fans noticed slight bulge
Emma Jalamo drops collabo with Nicah the Queen after week-long stunts [Watch]
NTV's Zainab Ismail pays touching tribute to late father on 1st anniversary
Not my husband - Chiki Kuruka shoves lady grinding on Bien [Video]