Zari Hassan finally unveils the face of her new Man on Valentine's Day (Photo)
The new KingBae is here guys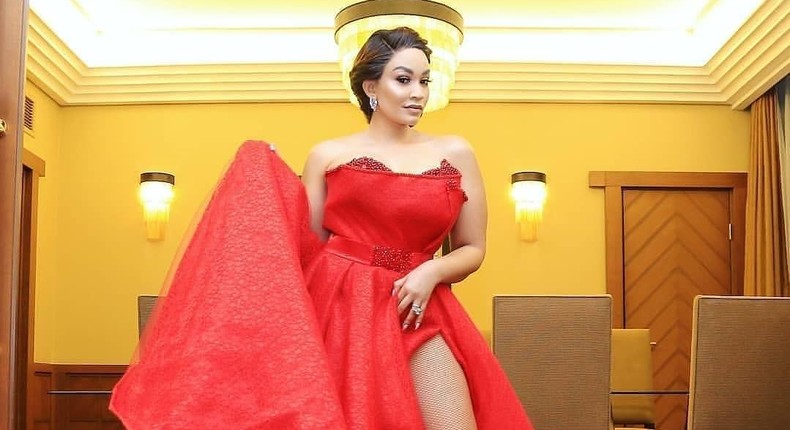 The mother of five used Valentine's Day to parade her new man to the world, after keeping him a secret for some time. This is the first time netizens are having a clear look at Zari's "Dark Stallion" as all the previous photos had been captured strategically to hide his face.
The unveiling come days' after Ms Hassan hit out at critics claiming the affair with her new man branded "Dark Stallion" won't last.
Zari Hassan with her new Man
The socialite mentioned that she doesn't care if the relationship will last or not, but she is already having a good time with her new boyfriend.
"Most miserable people will want to see you in their WhatsApp group. Don't count me in that category a beg. I refuse to be one of you. Happiness lives here. If it ends in tears let it, what will you as a person lose?" wrote Zari Hassan.
In a separate post, she wrote, "Don't break my little hand eer I mean my (love) Mr man. Call him the Dark Stallion."
Zari Hassan with her new Man Pulse Live Kenya
For past few days, Ms Hassan has been flaunting her new bae on social media, but most of her photos had been captured strategically with her man's face hidden.
She is back in the dating scene, months after confessing that the affair with the man she had introduced as KingBae didn't last long.
Get our Top Stories delivered to your inbox
Recommended articles
Nonini invites fans for 40th birthday bash in Dallas
DJ Mo surprises wife in Kibwezi [Video]
Youthful MP Peter Salasya searching for a wife with these qualities
Ed Sheeran may have to pay $100m, if found guilty of plagiarising a song
Size 8 casts out demons from possessed girl in Kibwezi [Video]
Bahati is battling depression, Diana has called me twice-Ringtone
Jamal Rohosafi throws shade at ex-wife Amira with cryptic message
My twin - Diamond gushes over look-alike son[Photo]
Crossing boundaries! Diamond working on a song with Indian star [Details]