There are days I feel overwhelmed - DJ Krowbar's wife in emotional interview
There are days I feel overwhelmed and keep on asking when it will all be over. There are days I go for dialysis and a single mistake happened and I collapsed on Mother's Day - Wanjiru Karumba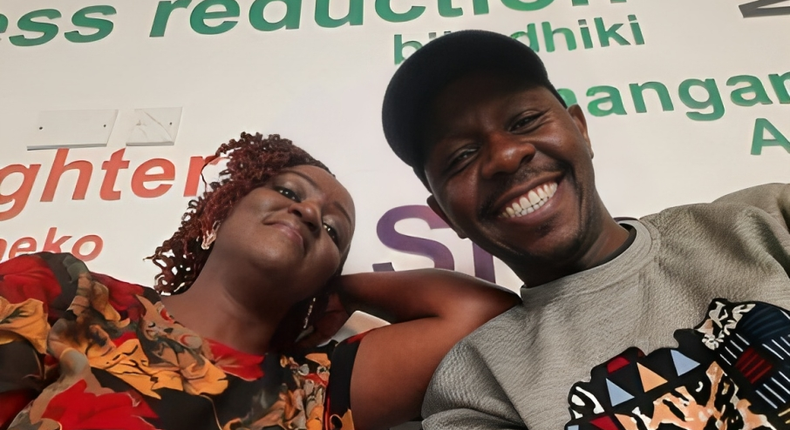 DJ Krowbar's ailing wife Wanjiru Karumba has opened up on the health challenges she is facing and appealed for help.
In an interview on Citizen TV's Shajara na Lulu show, DJ Krowbar and his wife revealed that things started getting worse in April last year when she was diagnosed with acute kidney injury.
"I experienced dizziness, lack of appetite, swollen legs, could not see well and I had challenges walking. They checked me and after several tests, they informed me that I was in a bad state. They checked my vital organs and found out that I had acute kidney injury," Wanjiru recounted.
The diagnosis changed life for Wanjiru who operates a fashion business alongside raising her young family while also coming to terms with what she was going through.
"I had to find a way to juggle dialysis, my fashion business and my family. It was not easy at all. Sometimes the dialysis would overwhelm me and I could not go to work or even lift my child because of side effects.
"There are days I feel overwhelmed and keep on asking when it will all be over. There are days I go for dialysis and a single mistake happened and I collapsed on Mother's Day. There are days your body is so weak and you feel like a burden but I have had the uttermost support that I am able to take each day as they come." She said.
DJ Krowbar who recently appealed for help in raising Sh6 million needed for kidney transplant added that they sought a second opinion following the diagnosis.
"We were shocked, we had a second opinion from another doctor and confirmed the results were factual. We went to another hospital again and we got the same diagnosis, it was difficult for us to accept the result," he added.
Wanjiru's sister has agreed to donate a kidney and the couple has appealed for funds for the critical life-saving procedure.
"This kidney transplant journey has three phases – pre-surgery, surgery, and post-surgery – and we need financial help on this journey. This is why we are asking you to stand with us," he earnestly implored.
Funds to support the couple may be sent to the Paybill: 4116415, Account: 3
Recommended articles
Mulamwah reveals next investment as Kitale mansion nears completion
Diana credits Morgan Bahati with family's success & the memory she holds dear
Kwambox lights up social media after hosting 10/10 show & impressing on Citizen TV
Akothee over the moon after her 'son' graduates
Meet Stephen Opondo: From Atito of 'Classmates' to starring in a Japanese film
TikToker dies days after posting a video about death
Juliani's 'Total Man' & 7 other fresh songs of the week
Breeder's lines on Mungai Eve could give Director Trevor a reason to worry
Marlaw's Biography: Age, financial struggles, music hiatus & comeback