KTN Beauty gives details of what transpired before her sex tape was leaked online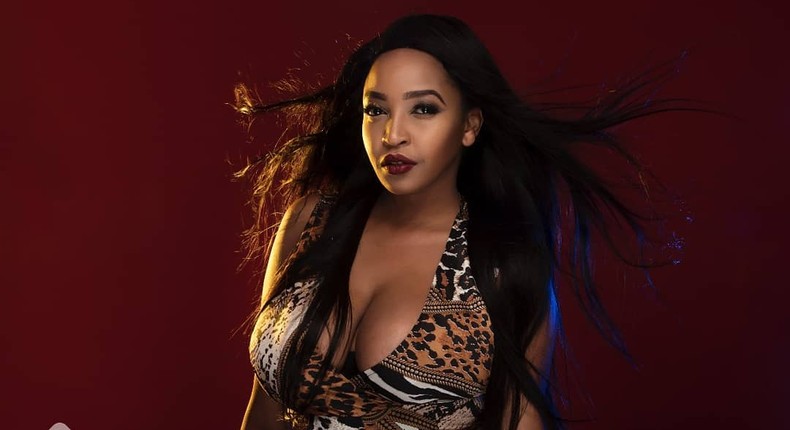 KTN's Socialites show cast member Ella Wanjiru has divulged details of what transpired before her sex tape was leaked online.
In a post seen by Pulselive.co.ke, the former Ebru TV presenter, disclosed that, before the intimate videos and photos were shared on social media, she was blackmailed by the person she had trusted with all her love (Jilted lover).
Ella explained that the person behind the leakage of the videos demanded money from her and even after sending the money he still went ahead to leak the photos and videos.
"Tough times don't last, tough people do. Some people on social media streets feed on misery.So let me own this and take their power away. 
"Intimate pictures and videos of me are being shared on social media. They were never meant for public distribution. Strictly for a person I chose to trust. 
"A simple story of Girl meets Boy. I fell for him and gave all of me. He ransomed my dignity at 20,000 Shillings and released our intimate communication, knowing that it shall be shared, go viral and become clickbait. 
"My friends, sending my vulnerable images to others only breathes further life into my personal nightmare. I ask you to deny this extortionist their power. My parents may not be with us, but I'm still someone's daughter.
Pulse Live Kenya
If you are or have gone through this experience, you're not alone, and it's definitely not our fault. This has left me feeling scared, unsafe and worried about my future. However, I refuse to be threatened, shamed or humiliated. 
To my Support System (Instafam) thanks for your endless patience and compassion. No malicious comments, no victim-shaming has been expressed towards me by you. Asante.
Love & Light." wrote Ella
Pulse Live Kenya
On Thursday, Ella had also responded to the major invasion of her privacy, saying she will not be cowed by the tape and will continue living her life like it never happened.
Pulse Live Kenya
Recommended articles
Ephantas Safari finally reveals real reason Kawira left their 6-year marriage
NTV's Susan Grace tearfully narrates how stepdad ruined her teenage years
Willis Raburu shares his opinion on new host of 10 over 10 show
Gidi's 'Patanisho' call ends abruptly as furious man accuses him of collusion with wife
Fans question Diamond's statement about Naseeb Junior, his last child
Seun Kuti struts his stuff on the Paris Fashion week runway
Akothee drops 'Mrs Schweizer' title from Instagram bio
BBC's Ian Wafula elevated to continental role in latest promotion
TikToker sets sight on Samidoh's heart, ready to cook her way to love