Huddah Monroe drooling over 18 year olds
I want to eat them all- Huddah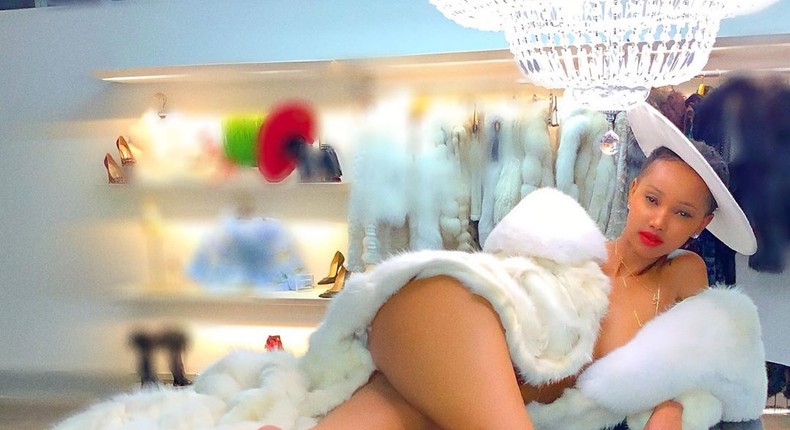 Socialite Huddah Monroe is out here throwing confessions left, right and center about her intimate life.
In one of her updates, the Huddah Cosmetics Boss has disclosed that she hasn't had sex in the past 2 months, in the quest to control herself in this sinful "world". She also stated that "all 18 year old boys looking like snacks, I want to eat them all".
"Haven't had my conjugal rights in 2 months. Practicing self-control in this sinful world. 18 year old boys looking like snacks, I want to eat them all. So if you see me rant as you all call it, instead of speaking one's mind. Understand it's a cry for help. LMFAO! F*ck that shit. I saty speaking my mind forever, I don't care" shouted Huddah Monroe.
Ms Monroe is never afraid of discussing her sex life and a few years ago she blasted admirers who were yearning to bed her on a fee.
The socialite mentioned that rich men were desperate to pay any amount of money just to sleep with her and add her to the list of people they have smashed.
"The Rich ones who want to pay me just enough to add you/me on their Hit List. If I was to charge people, none of you can afford sleeping with me. It's plain and simple! That's why I don't put a price on my head! I just do me" said Huddah Monroe.
Pulse Live Kenya
At one time she also expressed regrets concerning her sex life, wishing she couldn't have engaged in sexual intercourse.
"Sometimes I wish I could unfuck some people I fucked before. Urgh!! I hate regretting. And then you want to unfuck them but they still call and check up on you like they don't see how angry your soul is" shared Huddah.
Just the other day, Huddah was fighting off allegations of sleeping with men for money, labelled against her by former NRG host Kemene Goro.
Recommended articles
Daddy Owen drops 1st music video after 1-year hiatus [Watch]
Amber Ray excites fans with video of growing baby bump
Shaffie Weru makes media come back with new show [Video]
Actress Jacky Vike lands brand ambassadorial job
Kevin Mboya reveals details of Kwale trip that left him heartbroken
Photo of Wema Sepetu & bae Whozu sparks debates after fans noticed slight bulge
Emma Jalamo drops collabo with Nicah the Queen after week-long stunts [Watch]
NTV's Zainab Ismail pays touching tribute to late father on 1st anniversary
Not my husband - Chiki Kuruka shoves lady grinding on Bien [Video]