5 facts about 18 Hours - the true Kenyan story turned into film
18 hours is a must-watch medical thriller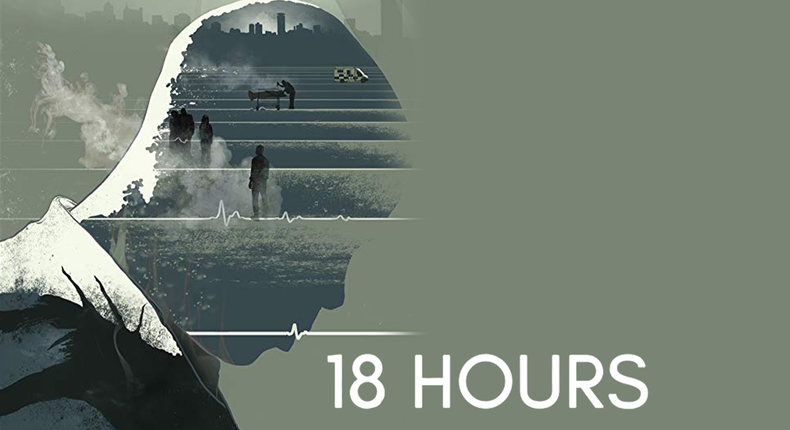 You are a paramedic on duty. You get a call that there's been an accident; a hit and run. Typical.
You are numbed by this because you see it every day. You get into the ambulance; it's another day for you.
You don't anticipate a bleeding victim. You don't anticipate trying to keep him alive for 18 hours. You definitely don't anticipate the treatment you receive at hospitals.
18 Hours is the story of Alex Madaga, a laborer from Nairobi in Kenya, and a victim of a hit and run accident while on his way home from work. His 'savior'; Brian Ochieng Odhiambo.
1. Based on a real-life tragedy
A scene from the film, 18 hours
The film takes us on a journey of two paramedics tending to him as he bled in their ambulance for 18 hours.
Get this, Alex was denied entrance in four different hospitals! One hospital could not admit or treat him because of lack of funds and another because they claimed they did not have an ICU bed.
We're not huge on spoilers. Get Showmax to see how it ends.
2. Inspired changes in Kenya's healthcare system
Kenyan health care workers in a theatre room Pulse Live Kenya
18 Hours made the impact it hoped it would make: a tool for social change.
The film helped push for the Kenya Health Act of 2018. It states that health facilities should administer necessary immediate health care to prevent death or worsening of a medical situation.
Part of the marketing campaign was with renowned Kenyan athlete, David Rudisha, to advocate for better emergency response in the country.
3. Forbes Africa under 30
18 Hours writer and director, Kevin Njue honoured on Forbes. Courtesy, Forbes Africa Pulse Live Kenya
The writer and director, Kevin Njue, was honoured as the first Kenyan filmmaker to be listed on Forbes Africa under 30 list 2019 (Creatives). He was 25 when he made the movie.
Barely a year after its premiere, 18 hours bagged 4 awards at the Africa Magic Viewers' Choice Awards 2018.
4. The Weirdest one of them all
A collapsing bridge and onlookers in Kenya Pulse Live Kenya
Now, this is a crazy one but true nonetheless. It so happens that on the first day of filming the first shot, a random pick up truck crashed on the bridge where the crew was setting up. No one was hurt but the accident caused a lot of confusion because people linked the accident on top of the bridge to the ambulance from the movie below.
5. First time for everything
18 hours, Kevin Njue(left), Phoebe Ruguru and Mark Maina at the AMVCAs, Courtesy, CIO East Africa Pulse Live Kenya
Now, best for last. Remember that the film bagged 4 awards in 2018? Among them was 'Best Overall Movie in Africa' and 'Best East African' movie. Till then, the category for 'Best Overall Movie in Africa' had never seen a Kenyan film be nominated. 18 Hours marked history as the first Kenyan film to be nominated and won!
Of noteworthy mention: 18 Hours was filmed in Kenya, particularly in Nairobi and Machakos. However, the casting call received applications from actors across the globe including some from LA, Hollywood, London, and Germany.
Showmax also offers a free 14-day trial.
Choose a plan that suits you and enjoy a world of great Kenyan films, educational content and endless entertainment.
Recommended articles
Thee Pluto files lawsuit against blogger Njambi Fever
Hope Kid denies fallout with DK Kwenye Beat after herpes allegations
Jackie Matubia: I'll give details when the time is right
Top 10 most-popular songs among Kenyan Gen Zs - Spotify
Akothee shares photos of her honeymoon in Santorini, Greece
Paula Kajala gifts herself multi-million Toyota Vanguard
Kabi & Milly WaJesus team up to slam Size 8 for clout chasing
Keranta's conservative spending leaves Flaqo disappointed
I love everything about you - Pritty Vishy unveils new lover [Photos]
Thika Sports Club, next stop for NCBA golf series
Big Ted's inspiring message to Kenya's rugby community
Fitness influencer Shiv Simani joins fight against sports neglect by gov't
Kipchoge wins Sh7.4M prize in Spain
Ombachi shares how career-threatening injury pushed him into content creation
Ruto donates millions after AFC Leopards beats Gor Mahia for 1st time in 7 Years
Ulinzi Stars midfielder returns from four-month injury layoff
Kenya's thriving sports culture: A deep dive into the country's passion for sports betting
The 8 largest events in Las Vegas 2023