Rapper Noti Flow surprises fans with rare makeup free video
Let whoever loves you love you for who you are - Noti Flow.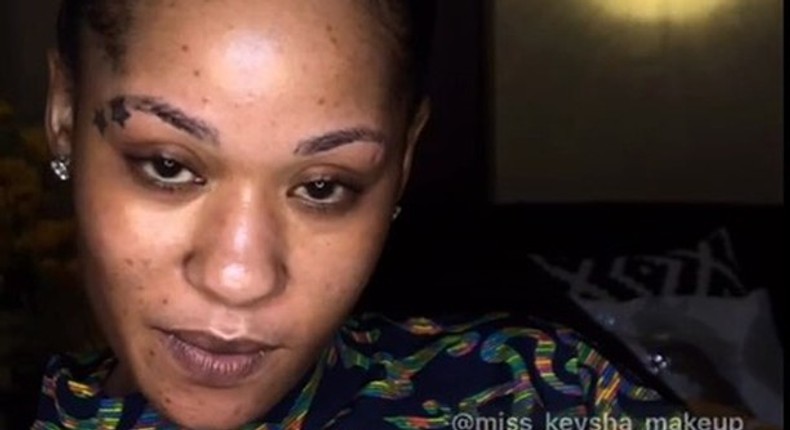 In a video that has received positive feedback, Noti shares a make-up free video which is followed by a clip of her looking glamorous.
The former 'Nairobi Diaries' star disclosed that this wasn't the easiest thing to do but she wanted to inspire & encourage young women with the same skin problems as her.
"It definitely took me a lot of confidence to do this. But I realized I have a good platform to inspire & encourage young women with same skin problem as mine & why not.Av been struggling with acne since my adolescence days, & my mom said it's only gonna last a few years then my skin would clear when I grow up but that didn't just happen. For the longest time, I didn't like my face cz of the spots that kept coming & disappearing but my family & friends kept telling me am beautiful way before I knew what makeup was. My face is not usually like this always. Sometimes it's clear like a baby's with no spot. But sometimes for example when am stressed up & it's about that time of the month it becomes bad! It's just something I had to get used to & find a way to live with meanwhile as I still struggle to get the best medication that will clear for good. I learnt how to love & embrace it. And still do my thang and be the Noti Flow that I am. I wear makeup coz it gives me confidence & also coz I love wearing it," part of her post read.
She then went on to tell ladies that they don't need makeup to be cuties, they are just fine the way they are. "Ladies, let no man dictate or question why you're wearing makeup. It's coz you choose to. You are beautiful with makeup, You are beautiful without makeup. You are a Queen & you do what you want
This transformation video is dedicated to all the women out there with eczema, discolouration, acne, scars, stretch mark, or any beauty marks..Y'all are beautiful. Regardless of what you may be dealing with it's going to be okey and you are going to be better for it.
Will repeat…BEAUTY is NOT makeup! Be confident in your own Skin. Let whoever loves you love you for who you are."
Pulse Live Kenya
This video has received a lot of positive feedback as many ladies were inspired by her bravery.
karry_faith_wangari: Have same issue with my face too but am glad you inspired me nilikua na stress Sana ju ya uso wangu.. thanks gurl
betty_berry_: You are actually more beautiful without makeup
dominic_mwololo: You're beautiful just the way you are.... Trust me
carolemillan2127: Still gorgeous both ways...
peggyskizza: I have struggled with acne and eczema for the longest time. This is definitely inspiring. Try vitamin E oil and Vitamin C Serum. They have been life changing
Tellemstevie: Crushie you are beautiful without makeup sweetie
Mimindi: You rock girl, with or without makeup you still hot.
frenaldoarthur10: Nice Noti....its good to encourage others who feel down to themselves
big_js_collection: Best post I've seen this year
Get our Top Stories delivered to your inbox
Recommended articles
Akothee flaunts new gift from her mzungu bae [Video]
I was frogmarched into university - Lillian Muli on her childhood career dream
Mambo ya mhesh - Bahati breaks silence with new banger [Watch]
Ruger arrives in Kenya ahead of Meru concert [Photos & Video]
Businessman saves Quiver, Loft & 41 clubs from closure
Gabu of P-Unit undergoes surgery
Why Willy Paul's new song has been deleted from YouTube
This is new to me - Ben Pol denies being divorced from Anerlisa Muigai
List of entertainment joints whose licenses have been revoked