I lost the baby - Size 8 speaks on having a miscarriage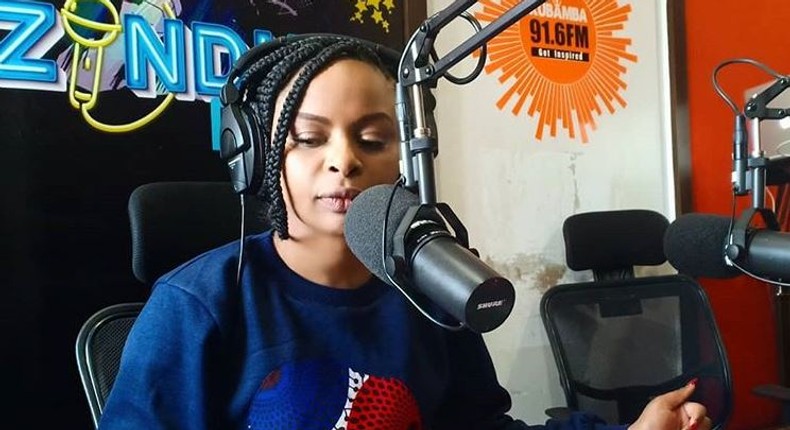 Gospel singer Size 8 has disclosed that she had a miscarriage, a few days ago.
The mother of one said that she never talked about it because it was a battle she had chosen to deal with privately.
"God is the giver of life and God is perfect no man is He alone knows what is best for us........ Am writing this may be to someone it will be an encouragement. Rumours were in many blogs that I was pregnant but I never did really confirm it cause it was a battle all the way so I just wanted to go with the fight privately. But God decided the best lane for me and I lost the pregnancy juzi........ To be honest I've cried I've asked God so many questions I have given my husband stress He is trying to make me be okay, I was so angry.....my faith in God has been greatly tested....... But what the Holy Spirit reminds me is this" linet trust in the FAITHFULNESS of God trust in His perfect LOVE for you He knows what's best for you Linet"........ So to all the women who have gone through the same I will tell you this God loves us and He knows what's best for us. And let us trust in His faithfulness........ And to the women who are trusting God for a child I have so much respect for you waaaaa I think you are stronger than 20men and God will reward your faith in Him despite the challenges.......... I pray that we may all praise God and give thanks to Him in all circumstances God give us the grace to do this.........
Pulse Live Kenya
One day this will turn around for my good for we know in all things that happen to us who believe in God who love Him happens for our own Good....... I will continue to praise God in Jesus name for His FAITHFULNESS........ Sitaacha kumsifu bwana..... Thanks @djmokenya for your love and support switt thanks and for all who knew what was going on thanks for your prayers Ann Munyali, Pastor Mary, Pastor Gladys, Gladys my sis, Mary, Ndanu Cynthia, Daisy, Jamo..... Let's pray for each other and love each other above all...... Pray for me............... Lord I sing this song by @therealsinach REJOICE for I know you are good.... Am gone dance and praise him it doesn't matter what comes my way, the greater one lives inside of me His name is Jesus. Am born a winner, more than victorious am heir of his kingdom, filled with the Holy Ghost. I rejoice in him rejoice in him I am more than a conquer."
Recommended articles
Murugi Munyi buys herself new multi-million SUV [Photos]
iAm Marwa builds 3-bedroom house for helpless neighbour [Photos]
Bebe Cool: Competing with Chamelone, Bobi Wine cost me a fortune but it was inevitable
'Die Hart': Kevin Hart's new movie is coming to Prime Video
Recording artist Emmanuel Jal launches food store in Nairobi [Photos]
Ex-Citizen TV reporter among 3 winners of KAS Media Africa award
Zari, Shakib quash break-up rumours in new video
My heart beats for you - Prophet Carmel celebrates wife Lucy Natasha on 1st anniversary
Bien defends wife Chiki Kuruka after grinding incident