Suzanna Owiyo celebrates daughter's graduation with lovely message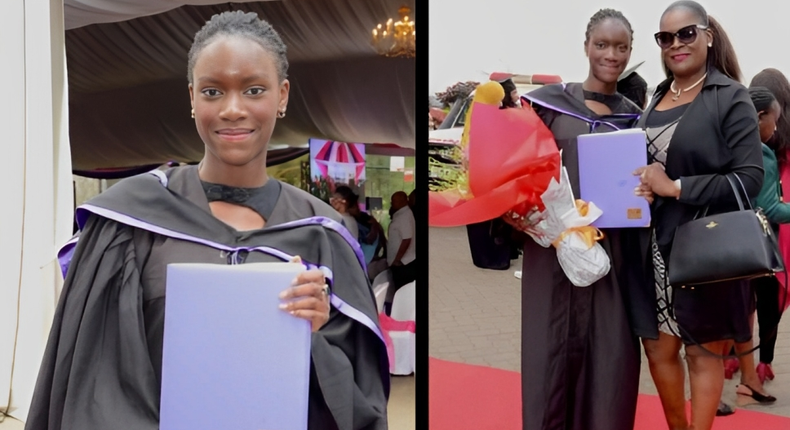 Award-winning Kenyan singer, Suzanna Owiyo has celebrated her daughter, Nadia Ounga who graduated from Riara University earlier in the week.
The legendary singer took to social media with a message in which she congratulated Ounga and wished her well.
The proud mother shared a series of photos, noting that the achievement brings Ounga a step closer to her to achieving her career aspirations.
"Congratulations my lovely daughter for achieving your graduation today!🥂🎉🎉🎉👏👏👏👏You truly deserve every best thing the universe is going to offer." Suzanna wrote.
"I could not be more proud as a mom We are very proud of you & may you achieve more & more in the future. 😍❤️❤️.
"Congrats again Nyar kogelo. May God bless you with an amazing life ahead," added Suzanna.
Celebrating family and close bond
Borrowing from the close relationship she had with her father, the singer enjoys a close bond with her daughter and takes to social media to celebrate her milestones as was the case when she turned 18.
"Help me wish my princess a Happy 18th Birthday.❤️ From the moment you came to this world, you have been nothing but a piece of joy. Seeing you grow and turn into the beautiful young lady you are has been a great opportunity for me as your mum.
"I pray that as you enter into the new year and into adulthood, you will fulfill your destiny, you will conquer the world before you and achieve the best. My desire is to see you follow your dreams and make the best out of it. You are still my little girl and always will be.....continue being witty, cheerful and adventurous as you have always been. Love Mum❤️'," she wrote at the time.
"I miss you Dad ❤️ You will forever be in my heart... b'coz in there, you are still alive," Suzzana wrote.
Fans shared messages of warmth to the Kenyan Musician and the queen of Benga Music.
Recommended articles
MCA Tricky shares his master's grades as he enters final year of study in engineering
John Allan Namu's brainchild marks 8 years, he reveals major lessons learnt
10 male singers who immensely benefitted from collaborating with Sheebah
Kate Actress outshines 9 top African thespians to be crowned Actress of the Year
Sonnie Badu criticises absentee fathers, says they are 'useless'
Wakadinali biggest winners as Spotify unveils most streamed artists in Kenya [List]
Proud mummy moment for Pierra Makena as daughter's talent secures her a movie deal
Iyanya advices happily married couples to keep off social media
Yvette Obura recalls pre-birth struggle as she marks daughter's 8th birthday