Murugi reunites with Belgian ex after his claims that she made him broke
Murugi reunites with Belgian ex after claims that she made him broke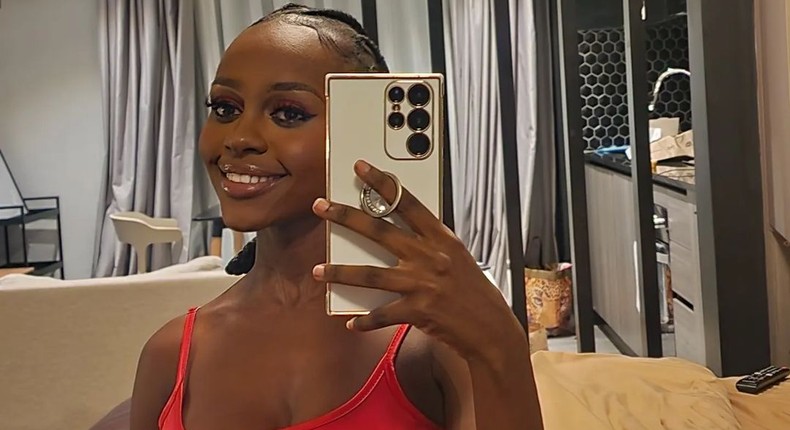 TikToker Murugi has sparked reports of reunion with her Belgian ex-husband Neluemrev Knarf, popularly known as Frank.
The pair was spotted together in public for the first time on Saturday, September 17 after parting ways with the Belgian taking to social media accusing his Kenyan lover of leaving him broke.
The duo was an item for two years with their relationship blessed with a daughter named Kenia before parting ways.
Murugi and Frank threw a lavish birthday party for their daughter as she celebrated her first birthday.
The pink-themed party went down ins tyle in Mombasa with close friends and relatives in attendance.
The beautiful memories were captured in a video that was shared by Frank.
The video shows the Belgian carrying their daughter and standing next to Murugi and helping their daughter cut her birthday cake.
Friends and relatives who attended the event can be seen singing happy birthday songs for the young girl.
Frank's reflections on love and choices
Frank recently reflected on his love live in a thin-veiled attack in which he did not mention names, revealing that he gave too much love to the wrong person only to end up completely broke and coming to his current realization.
Pulse Live Kenya
In the clip that went viral, the businessman is seen in a somber mood, reflecting on the events of his life in recent years and sharing his experiences with the world.
"After being with a Kikuyu lady for three years, I'm now completely broke. I realize I gave too much love to the wrong person" Frank stated.
Shortly afterwards, Murugi reacted to react to Frank's claims, sharing a TikTok video that tapped into a popular sound.
She shared a lip-synching video on, utilising a popular soundbite where a man humorously advises individuals on their financial decisions.
"If the money you have cannot solve the problems you have, eat that money," she playfully lip-synced.
The couple had been together for three years, legally married for two years, and had one child.
Recommended articles
'Sound of Freedom': Jim Caviesel's new movie is inspired by real-life experiences of an activist
Story behind Dennis Ombachi's tag name 'Roaming Chef'
King Kalala opens up about marriage & dreams of having 7 kids
Nicki Bigfish saves the day for man he intended to prank
Please be thorough with the investigation into Mohbad's death - Banky W
YY Comedian's mum shares untold story of how he suffered burns 7 times
Diamond pleads with Chege to release songs after unexpected reunion on stage
Mercy Masika expresses concern about modern pastors' fashion & modesty
Philosophy Fena Gitu applies in bold fashion choices