Tyler Mbaya aka Baha and lover Georgina unfollow each other
A section of their fans expressed genuine concerns while others were skeptical that the move could be part of what has come to be referred to as clout chasing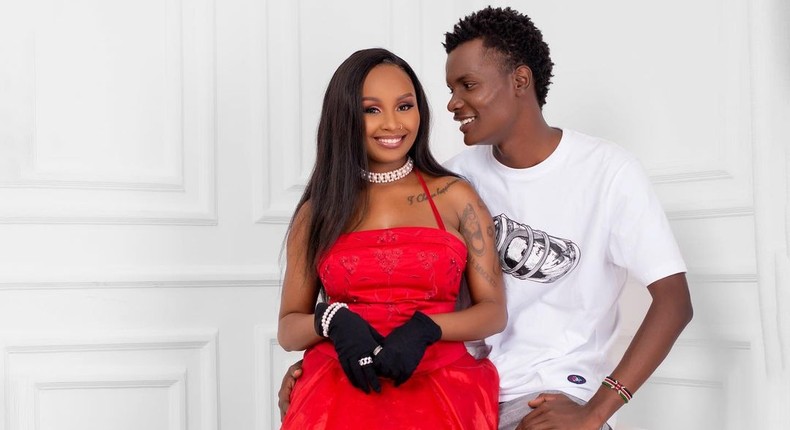 Content creator Georgina Njenga and Tyler Mbaya, popularly known as Baha have unfollowed each other on Instagram.
The development comes in the wake of allegations by Nurse Judy that the former Machachari actor reached out to her for financial assistance.
A spot check on their accounts reveals that some of their pictures are still on each other's accounts.
A section of their fans expressed genuine concerns and hope that Baha and Georgina will find a solution, including seeking help where necessary.
Others were skeptical that the move could be part of what has come to be referred to as clout chasing in which celebrities engage in drama to make news and up their numbers before releasing content.
The US-based Kenyan nurse alleged that Baha asked for financial assistance claiming that his family was on the verge of being evicted.
According to Judy, it is at this point that she reached out to Georgina who told her that Baha is into betting and that she pays all the bills, adding that she was not aware of the alleged financial challenges.
"Hey, I'm not aware of anything of the sort and no we are not being evicted. Do you guys know each other? But he has been having a betting problem but if anything he did not borrow money to help us with anything, probably for him. He didn't even tell me about this, and I pay all the bills. I feel so bad that he's using our child to get money and just bet," is the response that Judy claims to have received from Georgina.
As the claims made rounds on social media, Baha put up a post alluding to not being okay writing:
"I'm not okay, I'm working on it."
Tyler Mbaya and Georgina Njenga
In yet another post, Baha announced that he is selling his Instagram account with more that 760K followers.
Baha made the revelation on social media, asking interested buyers to reach out.
The content creator has a huge following on social media with more than 760k followers on Instagram.
Earlier in the day, the mother of one put up a post in which she told off relationship critics writing:
"Najua mnangojaga sana mapenzi yanirambe" and adding "najua".
In April this year, Tyler Mbaya and his girlfriend Georgina Njenga reaffirmed their love with a cute video amidst breakup rumours.
The couple put these rumours to rest with a lovely booed-up clip on their social media pages on Wednesday, after netizens on TikTok and other social media platforms observed that Baha and Georgina rarely posted pictures of each other on their respective social media pages.
Recommended articles
Fireworks as Arap Uria takes to social media with placard & gift for Peter Drury
Njoki Chege makes comeback to media with appointment to serve as CEO
Fans did not like how Zzero Sufuri was interviewed on 10/10, here's why
Meet the Rwandese man who has clinched date with Vera Sidika after her breakup
How Editi Effiong delivered a global hit with 'The Black Book' [Exclusive]
Nigerian producer Hitsound kicks off attempt to set new Guinness World Record
'Manifest is a better rapper than Sarkodie' – Samini
Alikiba embroiled in controversy as alleged ex-mistress accuses him of exploitation
Abena Korkor and Shatta Wale share kiss at Medikal's album listening [VIDEO]