Why Khaligraph wants to take top media personalities for benchmarking in Nigeria
The sentiments have elicited a heated debate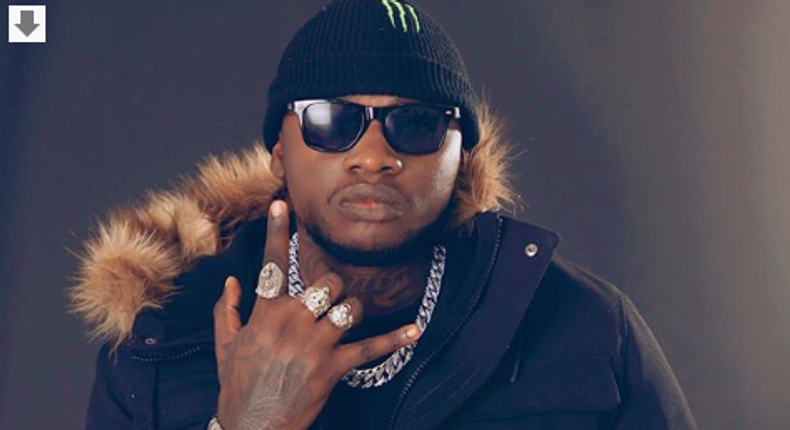 Kenyan Rapper Khaligraph Jones elicited a heated debate after offering to take 10 top media personalities to Nigeria for benchmarking.
Papa Jones who traveled to Nigeria to represent the country at the SoundCity Awards gala that went down over the weekend, mentioned that he wanted to see if Kenyan media personalities have a fan base in Nigeria as they always play their music.
"I am planning on Bringing at least 10 big Kenyan media personalities/Radio presenters to Nigeria for a 10 day trip which I myself shall cater for, I want to see if some of y'all will be recognized by your Nigerian fans or if you even have fans at all here, it would be very sad if you don't though. #respecttheogs," wrote Khaligraph.
His sentiments elicited reactions among musicians and stake holders in the media industry, with many weighing in, on the proposal.
Many artistes, who joined the conversation pointed fingers at local Radio and TV stations for allowing Nigerian music to dominate the airwaves.
Pulse Live Kenya
"So after making calls and confirming how serious the OG is about this I have decided I will pay for 5more so thats a total of 15. Let's make it a Real experience for them," Wrote Niaboi.
Milele FM presenter Jalang'o joined the discussion saying at times, fans have a bigger say on what should be played on air and kenyan musicians should focus on creating good music, instead of opting for blame games.
Pulse Live Kenya
"Mkisha tulipia? Tufike huko na hatujulikani..ehe? Halafu turudi...ehe? Alafu turudi tuulize wakenya wanataka nini...waseme wanataka Naija na Wasafi...ehe alafu tuwalazimishe na ngoma zenyu donge? Check my page bro..we were making our playlist the other day I posted asking them what they want to listen to...almost 50% Bongo...and 40% Naija 10 % Kenya...they said they want to listen to you yes because you make music they want! It took you to get out of your comfort zone and even rebranding...so badala ya kutingisha meza ya ma presenter watu hata hawaamui nini inachezwa kwa radio aanza kupea wakenya kitu wanataka..ka 2 in 1! Bro did you know presenter have very little say on schedules? Maybe no! Usidanganye wasanii waambie kitu watu wanataka kwasababu unajua!" said Jalang'o.
Pulse Live Kenya
Nyashinski and Mzazi Willy Tuva
The discussion comes after Nyashinski called out Radio Citizen's Mzazi Willy M Tuva with allegations of favoring Tanzanian artistes on his show.
His argument was prompted by an Instagram Clip of Mzazi Interviewing Governor Granton Samboja on his preferred local artistes.
Samboja answered by singing Harmonize's song "Kwangwaru" a thing that did not settle well with Nyashinski.
Pulse Live Kenya
Pulse Live Kenya
Pulse Live Kenya
Recommended articles
Lupita pays tribute to late Chawick Boseman in sweet message
Nikita Kering' elated after performing at BBC 1Xtra Afrobeats concerto
Spotify releases most streamed Kenyan artistes & songs of 2022
Tems addresses trolls criticising her Dazed magazine's photoshoot
Actor Sandra Dacha commemorates parents' demise in a sombre message
Nigeria dominates Apple Music 2022 Top 100 Sub-Saharan songs
Diana & Bahati blasted for sidelining Mueni in birthday celebrations
Sh25M monthly payments & other details of Kanye and Kim's divorce settlement
Bahati pens heartfelt message to daughter Mueni as she turns 7