5 amazing benefits of fruit peels for your skin
Don't throw away that fruit peel.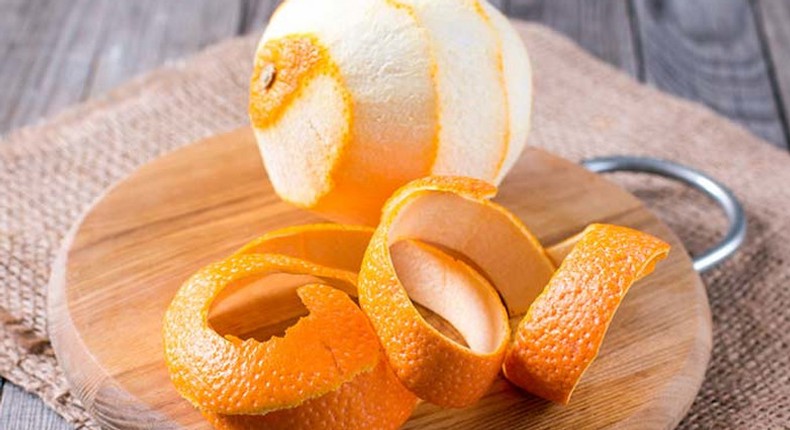 Fruits have been listed to have countless benefits for the body.
From the hair to the heart to the skin. Every body part you can think of can benefit from eating a fruit.
However, the peels can also greatly benefit your skin as well.
Here are the health benefits of fruit peels.
1. Orange and lemon peels fight acne
Orange and lemon peels have antibiotic properties that help them fight bacteria that cause pimples.
Rub the peels against your skin during your skin care routine to reduce chance of break outs.
2. Orange peels control excess oil in skin
If you have greasy skin, the orange rind has a flavonoid called nobiletin which helps prevent buildup of sebum in the pores. It also stops pores from getting bigger therefore there is reduced room for oils in the skin.
3. Orange peels strengthen skin
They can perk up the skin making it feel youthful and reduce wrinkling. It can also reduce cellulite.,
4. Tangerine peels prevent wrinkles
They have high antioxidant content which can help reduce collagenase which is an enzyme that breaks down collagen. This maintains the skin's collagen levels and prevents wrinkles from forming.
5. Banana and avocado peels moisturize skin
Rub the peels all over your face to lock in your skin's moisture, especially after exfoliating. Another idea is to mix fruit peel powder with your favorite natural lotion.
JOIN OUR PULSE COMMUNITY!
Recommended articles
South African star Ami Faku delivers rousing performance at Drip Fest [Photos]
5 traditional qualities money has replaced in modern relationships
Is love transactional? - First episode of Pulse LSL premiers [Video]
5 things you can do if you are stuck in a queue for hours
5 reasons you should consider having a court wedding
The perfect nail color to wear when your boyfriend proposes
4 side effects of eating peanuts in excess
Miracle Baby's girlfriend treated to surprise baby shower [Photos]
Badagry Slave Route: Slaves passed these 5 notable stops on their journey of no return