A simple and convenient way to clean your dirty microwave
If your microwave is dirty, you need to do better!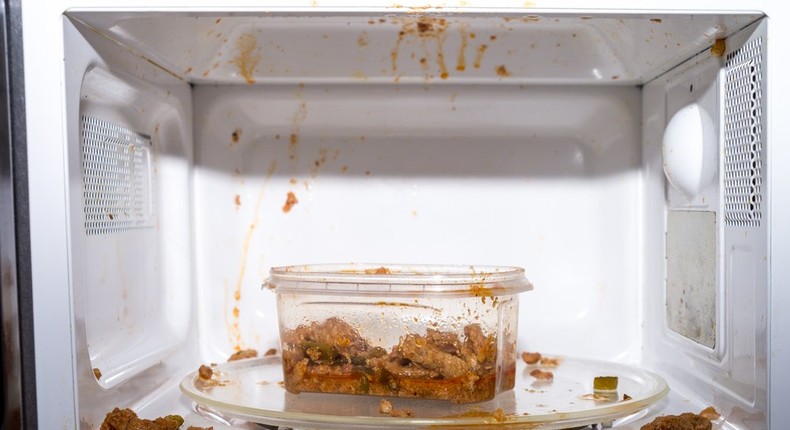 How clean is your microwave at home?
There's nothing more disgusting than visiting someone and helping yourself with something in the kitchen, opening the microwave, only to find that it's full of food splatter and dirt. Not only is that disgusting but also very unhygienic. If you do not want to go through the trouble of having to clean your microwave every now and then, you should buy a microwave-friendly food cover. You can get this in supermarkets or shops that deal in utensils. The cover is meant to cover the food in the microwave and prevents splatter. Alternatively, you could always cover with another plate that's microwave-friendly. If your microwave looks like a big bad joke, fret not, we will show you how to clean it easily in just under five minutes.
What you will need is slices of lemon or white vinegar, a microwave-friendly small bowl, water, and a sponge or kitchen towel.
1. Fill the small bowl halfway with water, then add vinegar, say about quarter a cup. If you have no vinegar, add slices of lemon or lime in the bowl with water.
ece-auto-gen
2. Now that you have your bowl ready, put it on the plate of the microwave, close and set the timer to about five minutes.
You need to ensure that the bowl is microwave-friendly so that it doesn't break. If the microwave is too dirty, you can even set the minutes to 10.
3. Once the timer is done, give it about two minutes before opening then take out the bowl.
Be careful though as it will be very hot, so handle with care to avoid burning yourself.
4. Switch off the microwave from the main switch and take off the microwave plate and its holder.
ece-auto-gen
Now, take a kitchen tissue/sponge/kitchen towel and gently wipe all over, till it's super clean.
5. Don't forget the inside of the microwave door, for this, if it's very greasy, mix equal parts of water and vinegar and wipe off the grease with a sponge. If it's not too greasy, a damp sponge will be enough to clean the rubber on the door.
6. Once through, close the door and wipe the exteriors with a damp sponge, carefully.
ece-auto-gen
There you have it; your microwave will be as good as new. Make a point of cleaning it more often.
JOIN OUR PULSE COMMUNITY!
Recommended articles
Africa Day 2023 Nairobi celebrations illuminate Africa's remarkable journey [Photos]
5 African countries where snow falls
Data reveals Nairobians' obsession with burgers
Africa Day: Some cultural & traditional practices that make the continent unique
13 ways to celebrate Africa Day
These 5 things happening on your wedding day may mean bad luck
7 skincare myths almost everyone believes
Dark side of wedding MC jobs - Daddie Marto opens up
Does money buy happiness? New study reveals the answer
Thika Sports Club, next stop for NCBA golf series
Big Ted's inspiring message to Kenya's rugby community
Fitness influencer Shiv Simani joins fight against sports neglect by gov't
Kipchoge wins Sh7.4M prize in Spain
Ombachi shares how career-threatening injury pushed him into content creation
Ruto donates millions after AFC Leopards beats Gor Mahia for 1st time in 7 Years
Ulinzi Stars midfielder returns from four-month injury layoff
Kenya's thriving sports culture: A deep dive into the country's passion for sports betting
The 8 largest events in Las Vegas 2023