What happens to your body when you drink beetroot juice often
It prevents pre-mature aging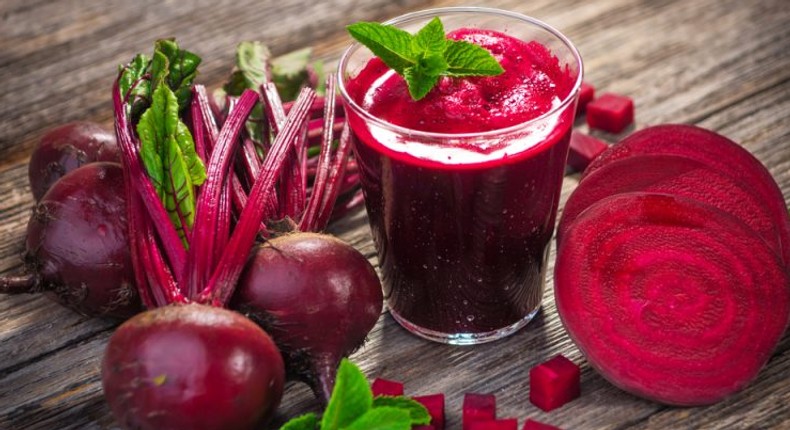 A lot of us do not really take beet juice because we are not aware of the benefits.
Beetroot is very healthy as it contains many different types of vitamins, minerals, antioxidants, nutrients and fiber. Importantly, when juiced, this allows us to consumer it in greater quantities and makes it possible to obtain these great benefits. So, what would happen if you drank a glass of beetroot every day? Here are health benefits associated with drinking beetroot juice consistently.
Beet juice can help lower blood pressure because it contains healthy naturally occurring nitrates. Although most vegetables contain nitrates, an average sized beetroot contains about 20 times more dietary nitrates than those other vegetables. This helps with nitric oxide production and when consumed regularly, beet juice can help lower blood pressure and reduce artery stiffness.
2. Great for eliminating inflammation in the body.
Beets contain betaine, which is a nutrient that can help protect proteins, cells and enzymes from environmental stress. This helps reduce inflammation while also protecting important bodily organs.
3. Prevent premature ageing.
Drinking this juice consistently can help prevent premature aging in a number of ways. Beetroots are full of skin healthy antioxidants which work to protect the skin by neutralizing free radicals in the body. In addition, beet juice contains lycopene, which helps to keep the skin's elasticity and protect it from sun damage.
4. It's a detoxifying juice.
It's been known to be a very effective detoxifying drink for our liver, since it can help remove unwanted toxins as well as stimulate liver cells. This is due to the methionine and glycine betaine which work to keep fatty acids from building up.
ece-auto-gen
This juice can also help boost energy, especially for those keen on working out and this is thanks to the nitrates found in beetroots. Even if you're not working out, the numerous vitamins, minerals and nutrients in beets can help boost energy throughout the day.
Pulse Live Kenya
6. It's great for people with blood sugar issues.
This is because it contains a great amount of soluble fiber and when drank, it can be great for your body if you suffer from blood sugar issues because it can lower the amount of glucose in the blood.
It can greatly improve digestion by stimulating the intestines and breakdown of the food. It's also been said to help reduce the pain associated with arthritis and may even improve eyesight. That being said, try and consume beetroot juice daily or at least one to two cups of the juice as often as you can. If you don't like the plain taste, feel free to blend it with another fruit(s) for better taste. 
JOIN OUR PULSE COMMUNITY!
Recommended articles
4 sure ways to make an unforgettable first impression [Pulse Contributor's Opinion]
What Chiki Kuruka, Lady Mandy and Yvonne Endo have in common [Pulse Contributor's Opinion]
Dear millennial, can you really afford to be in relationship right now?
Why do single women find married men attractive for relationships?
How to know when your friends have high-functioning depression
Here are reasons why grooms cry at wedding ceremonies
5 ways to have more mind-blowing sex in your relationship
5 things you should never do to please a woman
Popular Nairobi lawyer Silas Jakakimba weds fiancée in star-studded ceremony [Photos]