7 amazing benefits of eating pineapples
When was the last time you had a pineapple?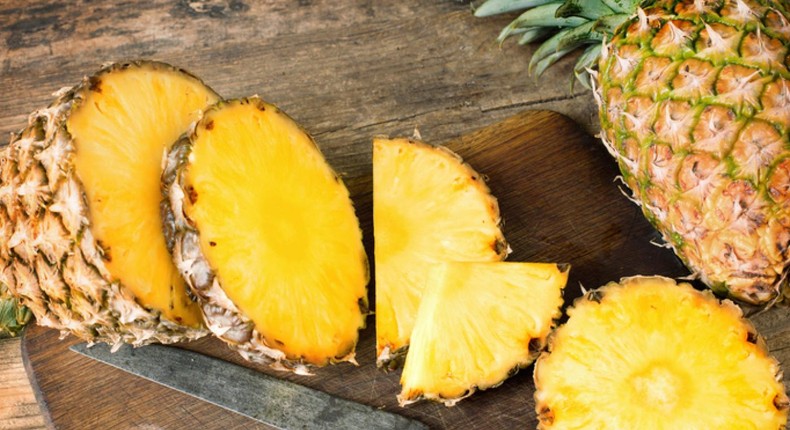 Pineapples are delicious, nutritious and very affordable.
With Ksh 10, you can at least buy a piece of pineapple and enjoy the benefits of this tropical fruit.
But besides its taste that we all appreciate, pineapple has numerous nutrition benefits to our bodies. Here are some of its impressive benefits:
Just like oranges, pineapple is rich in Vitamin C. Vitamin C stimulates the activities of the white blood cells which in return protect our bodies from diseases and infections. Eating it frequently will thus keep illnesses away.
Among the minerals contained in this tropical fruit is Manganese. Research has shown that Manganese helps in the growth, repair and strengthening of bones. And, a single serving of pineapple can provide you with more than 70% of the amounts of Manganese your body needs in a day.
As you age, your eyes become more prone to diseases and you lose vision slowly by slowly. But just like carrots, pineapples have beta carotene that helps in improving vision and also preventing eye diseases such as macular degeneration.
Whether trying to control or lose your weight, pineapple is the go-to fruit. It has fiber which helps you stay fuller for longer thus preventing you from eating every now and then.
You need to keep your body hydrated all through. And besides drinking water, you could also count on succulent fruits such as pineapples. This is a good alternative for people who don't like drinking water.
Thanks to their richness in fiber and water, pineapple help in the digestion process thus preventing constipation.
As earlier noted, pineapples contain Vitamin C which also plays a big role in promoting a healthy skin. It prevents wrinkles, heals skin problems resulting from sunburns and pollution, and also improves the skin texture.
JOIN OUR PULSE COMMUNITY!
Recommended articles
Check out how Rita Dominic and her husband looked at their white wedding
The way of men - How the 1st inaugural men's event went down
DIY Recipes: How to make Sausage salad
5 things people don't consider as cheating but actually is
5 foods that help wounds heal faster
Avocado: The health benefits of this fruit are priceless
Bad date? 3 sneaky ways to escape from this uncomfortable situation
​Turmeric: 6 unique ways to use this ingredient
5 body language signs you're about to break up