Impressive health benefits of eating red cabbage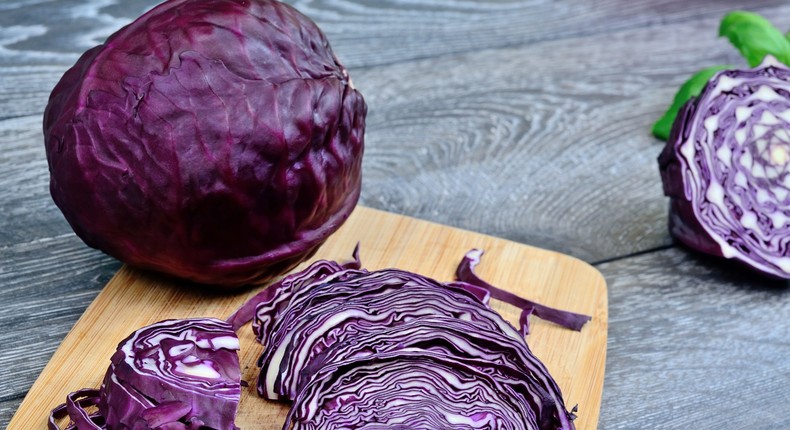 You might have heard all sorts of crazy tales told about eating cabbage. But let's get real for a moment.
Cabbage is healthy and just because some people say it's not good for women shouldn't make you exclude it from your diet. No scientific study proves that eating cabbage makes women overly wet down there.
Away from that, let's look at the benefits of eating red cabbage which is sometimes referred to as purple cabbage or:
You were told to eat carrots for good eyesight but no one ever told you that red cabbage is good for your eyes too. Red cabbage is rich in Vitamin A which improves vision, prevents cataracts and macular degeneration.
Losing weight is not an easy thing to do. But with effort and the right diet, it's possible. Red cabbage is extremely low in calories and has lots of fiber. Incorporating it in your daily diet, therefore, will help you pull through your weight loss journey.
Wanna remain young forever? Hehee that's only a dream. But anyway, some foods such as red cabbage will make your skin remain youthful for long and prevent premature aging because it has antioxidants that clear toxins from your skin.
Because red cabbage is loaded with Vitamin C, it helps in improving the functions of the white blood cells which are responsible for protecting your body against illnesses.
Not much can be done when it comes to cancer prevention but we can at least make an effort to improve our lifestyles to prevent it. We already mentioned that red cabbage has antioxidants and antioxidants play a great role in countering free radicals that lead to diseases such as cancer and cardiovascular diseases.
If you have ulcers, you should make an effort of adding red cabbage to your diet. It contains an amino acid known as glutamine which is known to reduce the inflammation and pain caused by ulcers.
As we get old, we become more prone to diseases such as Alzheimer. It affects the brain's functions and leads to memory loss. Fortunately, purple cabbage contains anthocyanins that protect the brain from such diseases that affect the cognitive functions.
JOIN OUR PULSE COMMUNITY!
Recommended articles
3 reasons you should apply lime juice on your face
NTV anchors Ben Kitili & Lofty Matambo promoted to senior roles
15 of the wildest animal specimens I saw hidden underneath one of the world's largest natural history museums
Cucumber: The health benefits of this fruit will leave you speechless
KTN anchor holds dreamy beach wedding ceremony on her birthday [Photos]
Fairytale bride: The 3 dresses Rita Dominic wore on her wedding day in detail
Check out how Rita Dominic and her husband looked at their white wedding
The way of men - How the 1st inaugural men's event went down
DIY Recipes: How to make Sausage salad