Would you try this carrot cake recipe by Kaluhi's Kitchen?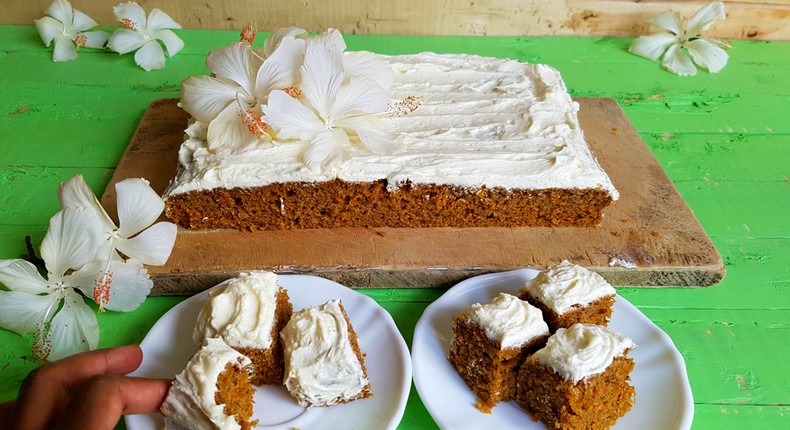 You love cake, don't you? Well, why not give a try to this simple carrot cake by Kaluhi's kitchen?
2 ½ cups all-purpose flour
1 tablespoonful baking powder
1 teaspoonful baking soda
Teaspoonful vanilla extracts
Pulse Live Kenya
Like always, start by mixing the dry ingredients in a different bowl and the wet ones on another.
So in this case, you will mix flour, baking powder, baking soda, cloves, cinnamon, nutmeg, and ginger in one bowl then the rest will go in a separate one.
When mixing the wet ingredients, ensure that the brown sugar is completely broken down into fine particles so that you have a fine and smooth mixture.
To the wet mixture, add the already mixed dry ingredients and the carrots. Mix them thoroughly until you achieve a consistent batter.
Pulse Live Kenya
Now you are good to start the baking process. Your oven should already be preheating at 180 degrees Celsius.
Grease your pan with margarine and the lining paper as well. Then dust the lining paper with some flour so that it will be easier to remove your cake once it's ready.
Bake for 45 minutes. The time may be longer or shorter depending on the size of your pan.
To know if your cake is ready, poke it with a skewer. If it comes out clean, the cake is ready. If it's wet, then you need to give it some more time.
Pulse Live Kenya
Once the cake is ready, it's time to spice things a little bit. Oh but not before the cake has cooled down.
To make your frosting, you will need; 1 ½ cup of icing sugar, ¾ cup of butter, 250g of cream cheese and 1 tablespoonful of milk. Mix them together and leave it to rest as the cake cools.
Once the cake is completely cool, frost your cake and there you have the most delicious cake!
JOIN OUR PULSE COMMUNITY!
Recommended articles
5 traditional qualities money has replaced in modern relationships
Is love transactional? - First episode of Pulse LSL premiers [Video]
5 things you can do if you are stuck in a queue for hours
5 reasons you should consider having a court wedding
The perfect nail color to wear when your boyfriend proposes
4 side effects of eating peanuts in excess
Miracle Baby's girlfriend treated to surprise baby shower [Photos]
Badagry Slave Route: Slaves passed these 5 notable stops on their journey of no return
Here's why sleeping with your phone in bed can affect your health