9 simple ways you can spoil your man
When was the last time you bought bae dinner?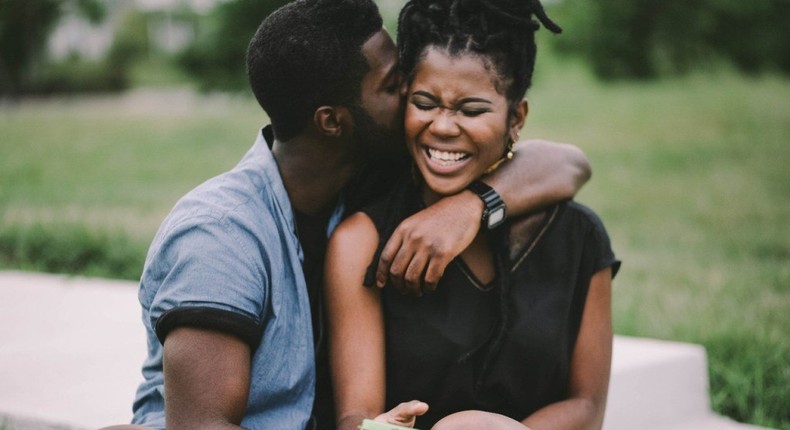 Ladies, when was the last time you spoiled your man?
We get so comfortable in relationships, waiting for our men to spoil us and take care of all the bills that we forget to do our part too. Some women are still traditional when it comes to dating – in the sense, the woman is supposed to be the home-maker while the man pays the bills. But times are changing and equality is a big debate all over the world. Women are now splitting bills with their spouses and taking on careers that were previously male dominated. We all want to be spoiled and it's okay to want your man to spoil you. If you're not about that 50/50 life, it's also okay and you should look for someone who is happy to take care of all your bills. Still, every once in a while, you should also spoil your man to appreciate all the great things he does for you, even though, he should deserve it. I mean, I wouldn't break my neck for a dude who does nothing for me…get the drift? That said, we have a few ways that you can treat him, whether or not you're willing to spend so much money.
Is there something he's been meaning to buy himself? Perhaps something he really needs? Like a new shaving kit? Depending on your budget, surprise your man with a nice gift. Heck, you could even buy him his dream car if you roll like that. If you're on the broke side of life, don't worry there are loads of sentimental gift ideas that you can resort to. In my opinion, I think the best gift is the kind that he will always have or at least have for a long time and one that will always remind him of you.
2. Take him on a secret trip.
Book a trip abroad and take him on a baecation. If that's above your budget, you could book a local trip. Every now and then, there are always hotel and flight deals and you can also take advantage of the low season. The same way you're so happy when he takes you on a vacation, is the same way he will be when you reciprocate. Better yet, make it a surprise, and once everything is planned and set, surprise him with the tickets.
3. Treat him on date night.
Let me guess. He always takes the bill on date night right? How about you switch things up a bit, take the initiative, take him on date night at his favorite restaurant and take care of the bill?
If you live together, this may not really be so much of spoiling but hey you can do things differently, by cooking his favorite meal for him, setting the table for a nice romantic dinner, dressing up for up for him, eating together and catching up, not on work…no. Spark nostalgia. Remind him about a nice memory of you two. The goal of this is to appreciate him and also remind him what he saw in you.
ece-auto-gen
Who in their right mind does not like a nice Swedish massage? Your man gets tired from working for that money that keeps you happy. The least you could do hunny, is give him a really nice massage. Now, I know, I know, not all of us are talented in that department. You could check YouTube tutorials on how to give a massage and get some massage oil then give him a basic massage with a happy ending. Tip: Buy sexy lingerie and massage him while wearing it. Men are simple and visual beings…sometimes, all you need to take him over the moon is something as simple as letting him see your amazing body and giving him a taste of them goods.
ece-auto-gen
Imagine your guy, lying there after a night with his boys, hungover as hell, tired, with a pounding headache? Head over to the kitchen, make him a killer breakfast and serve it for him in bed. If he doesn't appreciate that, girl, you deserve better.
7. Give him a break from the kids to go enjoy with his boys.
If he wants to go on a weekend getaway with his boys, and he deserves it, don't be a nagging girlfriend. Give him that much deserved break. Let him go and do man stuff with the guys. If you're in a healthy relationship, you should not even worry about what he will or won't do when he's away just give him a simple 'enjoy, don't do what I wouldn't do' kiss and see him off. Seriously, men need a break from us…
ece-auto-gen
8. If you don't live together, you could do his chores for him.
I know it's been said time and time again that you should never do wifey duties for a man who hasn't put a ring on it but hey, if you're broke, what options do you have to spoil your man than with love and care? Cater to that guy. Do his house chores for him once in a while and ensure he's living in a clean neat house. You never know, he might even invite you to start living with him when he gets used to that comfort of a clean home.
A barbecue party with all his close friends. Get some drinks, good music and just have fun. What could go wrong? He will be very happy and appreciative of the thought.
Disclaimer* Doing all these things doesn't mean that he won't cheat.
JOIN OUR PULSE COMMUNITY!
Recommended articles
Badagry Slave Route: Slaves passed these 5 notable stops on their journey of no return
Here's why sleeping with your phone in bed can affect your health
6 ways to be an amazing boyfriend when your girl is on her period
7 weird things men find attractive in women
9 feminine hygiene tips every girl should know
10 outdated gadgets that will make you nostalgic
Fashion designer Diman Mkare announces expecting first child [Photos]
6 tips to enjoy rest when struggling to slow down
These are 5 top signs of fake love in a relationship