Clever ways to spend less money on your wedding cake
For the couple on a budget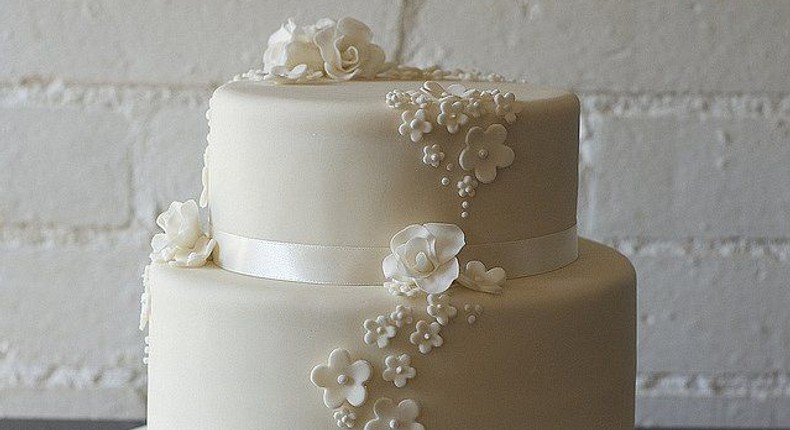 A wedding cake normally symbolizes different things in different cultures, the most common being fertility and fortune.
The bride cuts the first slice to symbolize good fortune in the marriage. It's also shared with the rest of the guests in attendance to bring good luck to everyone who eats it. Because of the importance and significance of having a wedding cake, as you would imagine, wedding cakes cost an arm and a leg. In fact, you will rarely spend anything less than 30,000 Ksh on a wedding cake. But, what do you do when you do not have money to splurge on the wedding cake, and still, you want a decent and presentable cake at the wedding? We got you, read on to find out how you can cut costs on your wedding cake budget.
1. Less tiers = less money.
Many people want a huge 6 tier cake but more tiers obviously means more cake, more ingredients more decorations and subsequently, more money. In most cases, even a two tier cake will do.
2. Go for a square or rectangle shape.
This shape is easier to cut into many small slices as opposed to say a triangular or intricate shaped cake.
Pulse Live Kenya
3. Decorate the cake with real flowers.
Alternatively, if you really want a floral cake, you could choose to have one standout floral design say on the side or top of the cake. You could also use real flowers which you will gently remove when it's time to cut the cake.
Pulse Live Kenya
If you use the same caterer handling the food, chances are, you may be able to negotiate for a better cake price which is good for your pocket.
5. Have a display cake and a secret cake.
So, this is a secret used by many brides who are on a budget. This is how this works. You will have two cakes. One gorgeous and stunning cake which will be at the display and this is what the bride will cut. However, the caterer will have another secret cake which is what will be served to the guests. Of course, do ensure that the secret cake is also of decent quality you don't want people to bad mouth your wedding after.
Another way to cut cake cost is to have already packed small cakes which guests can take home. This is cheaper as you don't need to pack a big piece but just a decent slice for each guest. You could also consider serving cup cakes for guests instead of the main cake.
ece-auto-gen
7. Ensure that the slices being served to guests are not too big.
Just a little slice will do. You can at least start with small slices and should the cake remain, you can serve guests a second round.
8. Ask a friend to help out.
We all know someone who is a really good baker. You could ask them to help out if really, your budget is super tight. Negotiate on a good price and have them bake you a decent wedding cake.
JOIN OUR PULSE COMMUNITY!
Recommended articles
8 Well-clarified tips for preventing Pneumonia during the rainy season, according to AI
7 self-care activities for the weekend
10 safety tips to protect social media accounts from hackers, according to ChatGPT
Dos and don'ts of supporting Muslims during Ramadan
5 foods that help wounds heal faster
5 ways drinking water significantly improves your dental health
Signs people think mean he's in love when he isn't
5 best romantic gestures when you want to apologise
Tear gas safety guide: 9 ways to protect yourself, others, according to AI